Review: Jobs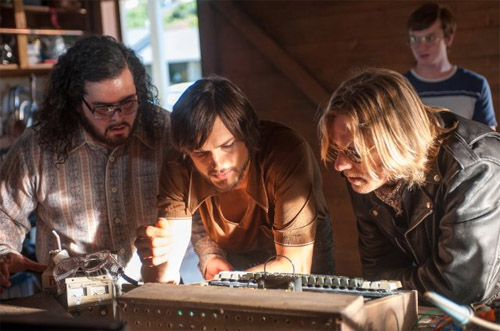 If Jobs were an Apple product, it might be called the iFlop.
Maybe that bit of snark is a bit too harsh, for the Steve Jobs biopic seems well intentioned. It plays like a sincere attempt at a mildly artsy, warts-and-all portrait of Jobs. But like Apple's worst missteps (remember the Newton?), Jobs is a clunky and buggy film that may frustrate its audience, especially viewers familiar with Jobs' life and career.
Jobs opens when Steve Jobs (Ashton Kutcher) is a teenage college dropout auditing classes at Reed College, dabbling in drugs and seeking spiritual enlightenment. The movie spends a lot of time on his early career, when he co-founds Apple in 1976 in his parents' garage with his friend and fellow nerd Steve Wozniak (Josh Gad).
Jobs desperately needs funding for the company and finds a sugar daddy in semi-retired Intel manager Mike Markkula (Dermot Mulroney), who becomes a longtime Apple board member and figures prominently throughout the film. Jobs then fast-forwards through the growth of Apple, the birth of the Macintosh and Jobs' increasingly rocky relationship with the Apple board of directors, culminating in his ouster from the company in 1985.
The story then fast-forwards again (this happens often in Jobs) to 1996, when a desperate Apple begs Jobs to return, hoping his visionary ideas will reverse the company's sagging fortunes. We all know the rest: He inspires his troops to create the portfolio of iProducts that have turned Apple into one of the world's most valuable companies.
The parallel rise, fall and rise of Jobs and Apple are fascinating stories. But Jobs tells them unevenly, dwelling too long on some aspects, ignoring others and granting itself generous poetic license. The film tells us plenty about the days when Apple was headquartered in a garage. But it completely skips Jobs' important career milestones between his stints at Apple. He founded NeXT, a successful computer company Apple acquired when it rehired him. He also bought a little-known animation studio called the Graphics Group and turned it into the wildly successful Pixar.
Jobs also gives short shrift to Jobs' colorful personal life. The movie barely acknowledges his longtime girlfriend during his twenties, Chrisann Brennan (Ahna O'Reilly), and their daughter, Lisa Brennan-Jobs (Annika Bertea). Jobs denied he was the girl's father, which led to an ugly paternity dispute. Intriguing stuff, but Jobs sums up the episode in barely a minute, with a mere glimpse or two of Chrisann and Lisa and an angry meeting with a lawyer. Jobs later married Laurene Powell (Abby Brammell), and the couple had three children. He was a generally devoted father, but you wouldn't know it in Jobs -- Laurene and the couple's son, Reed (Paul Baretto), appear in only one scene, and we never see their daughters.
Another fundamental problem with Jobs is the terrible miscasting of Kutcher. He was a hoot as the dimwitted Michael Kelso in That '70s Show and has done passable work in bantamweight Hollywood comedies. But he's far out of his element as the intense and vitriolic Jobs. His angry rants feel forced, as if he's trying too hard to prove he can handle a dramatic role. He looks remarkably like the real Jobs, but the resemblance isn't enough; he never inhabits the character or conveys his intensity with any believability.
Then again, Kutcher is working from a script that computer programmers would call a beta version. The dialogue is often sloppy and awkward, as characters speak in clichés about friendship and platitudes about success. The film focuses too much on boardroom bickering and not enough on what shaped Jobs' creative vision. The principal players have no backstories (even Jobs has only the barest hint of one), and the film gives no time to introspection or character development. Instead, the story bounces from one event to the next, telling us some of what happened but barely delving into why, and largely missing the point of Jobs' impact on technology.
Despite all these problems, Jobs isn't unwatchable. It zips along, dragging only when it bogs down in corporate politics. There are some funny moments, especially in the interplay between Apple's scruffy pioneering employees. And there are plenty of well-rendered nostalgic touches that recreate the milieu of Silicon Valley's early years, from vintage computers to Ford Pintos to hideous polyester wardrobes.
But given its compelling source material, Jobs should be much more than watchable. It should probe far more deeply into the mind of Steve Jobs and the story of Apple, for they can teach us much about the creative process and the profound ways computers have changed society.