Be Next to See 'You're Next' (Free!)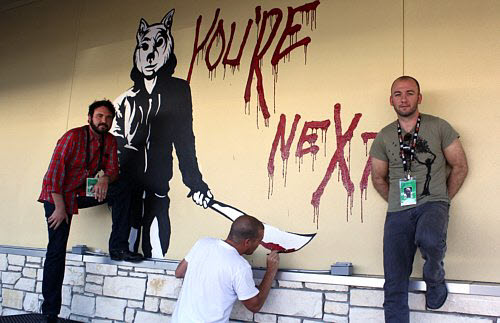 Not many Austinites have had the chance to see You're Next yet. The horror film, directed by Adam Wingard and written by Simon Barrett, screened during Fantastic Fest 2011 and again at SXSW earlier this year. Jordan attended a special screening earlier this week with stars AJ Bowen and Barbara Crampton in attendance (look for her write-up soon). But the movie isn't officially being released in Austin theaters until August 23.
Slackerwood is giving you the chance to see You're Next early -- and for free! -- next Wednesday, August 21 at 8 pm at Alamo Drafthouse Ritz. We have a limited number of admit-two passes to give away.
After the jump, you'll find promotional codes and links to the Gofobo website where you can enter the code to get an admit-two pass for the screening of your choice. These are first-come, first-served passes and seating is not guaranteed. If you've been to preview screenings, you know that often more tickets are given out than there are seats, so you'll want to arrive early to stake out a good spot in line (especially for a horror film at Ritz).
The cast of You're Next includes AJ Bowen, who is also in the Austin-shot Grow Up Tony Phillips; Texas filmmaker Amy Seimetz (Sun Don't Shine); filmmakers Joe Swanberg and Ti West, who regularly screen their films at Austin fests; and Barbara Crampton, who's graced a number of movies including Body Double and Re-Animator. Several Slackerwood contributors have seen You're Next. Their reactions:
"You're Next swept the Fantastic Fest 2011 awards and wowed audiences at SXSW this spring -- a family get-together turns into all-out battle for survival against determined home invaders." -- Mike Saulters
"Really smart, incredibly funny at times. It's the shot in the arm that the end of summer, as well as independent horror, needs. Great performances, and a terrific horror movie overall." -- J.C. De Leon
"Supremely clever and legitimately thrilling, it's easily the best horror film in recent memory." -- Matt Shiverdecker
Are you ready to redeem your ticket?
Go to the Gofobo site and log in (or create an account). Then visit this link (or search by zip code) and find the Austin screening of You're Next. In the left column, enter the RSVP code SLACK4K7L. This will take you to the web page where you can get a pass.
If you don't have a Gofobo account, you'll need to create one ... and many preview screenings in Austin now use Gofobo, so you can use the account for more free films in the future. After you sign up or log in, you'll get an admit-two pass that you should print and bring to the theater with you. Best of luck!
And if you can't attend the preview screening, look for Jordan's review here on Slackerwood when the movie opens on August 23.
[Photo credit: You're Next mural at Alamo Drafthouse South Lamar, Fantastic Fest 2011, by Debbie Cerda. All rights reserved.]