Review: Austenland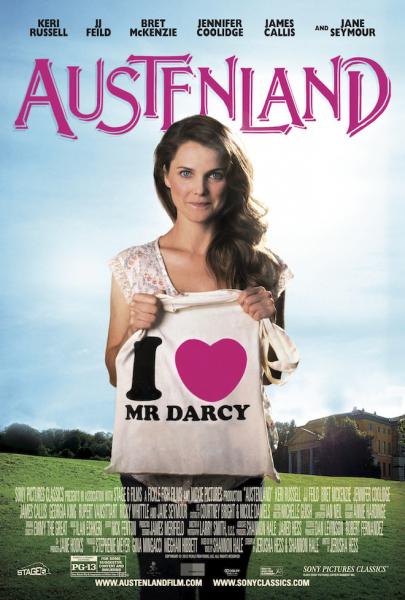 I can't recall if I've ever been a huge Jane Austen fan. Sure, I have always appreciated her writing, and even starred in a high-school production of Pride and Prejudice. (Don't get excited -- I just played the maid.) I do know that I typically don't go out of my way to see film adaptations of her work because I have never found myself to be the "hopeless romantic" type. This is why I have decided that Austenland is the perfect film for someone like me -- eager to keep the realism of romance, but secretly wanting our heroine to find a good guy in the end.
Jane (played by the adorable Keri Russell) is obsessed with Jane Austen's work. We see a quick flash of her childhood and young adult life, which includes all things British ... such as a life-size cut out of Colin Firth in costume as Mr. Darcy. We also see that her present life is nowhere near as glamorous or charming as the women in Austen's books. It is around this time that Jane decides she is going to cash in her life savings and take the trip she has always wanted to take -- to Austenland, in search of her own Mr. Darcy.
From the start of her adventure she teams up with Elizabeth (Jennifer Coolidge), who quickly becomes Jane's sidekick and plays the touristy American looking to take in the men more than the sights. Since all the guests are women, everything is catered toward what women did during this time period. Needlepoint, playing cards and lots of walking are just a few of the thrilling activities for the resort patrons.
The tricky thing about this place though is you don't quite know what is real or what is just part of the act. Austenland's owner Mrs. Wattlesbrook (Jane Seymour) does everything to make her guests stay as authentically "Austen" as possible, romantic encounters included. Does Martin (Bret McKenzie), the lowly stable boy, win Jane's affection? Or will it be Henry (JJ Feild), the standoffish, grumpy noble?
I enjoyed the modern twist Austenland gives this story. Sure, it's cheesy, and we see that Jane is slightly delusional. But the best moment of all is when she herself realizes that life isn't a storybook romance. She starts to blur the lines between what is real and what is fantasy, ultimately having to step back and figure out what she truly desires. She is above all braver and more independent than her favorite characters. It made me root for her more, showing us that modern women have certainly evolved since the women of Austen's time.
Perhaps it was fate that I was invited to attend the Alamo Drafthouse's Girlie Night advanced screening of this film. Perhaps the stars aligned for that one night so that I could watch in awe and realize that my own Mr. Darcy might be just around the corner. Whatever it was, I'm fairly certain that this film put some spring in my step, causing me to skip back to my car... and I don't usually skip.