Austin Filmmakers Carry 'The Book of Joe' to Hollywood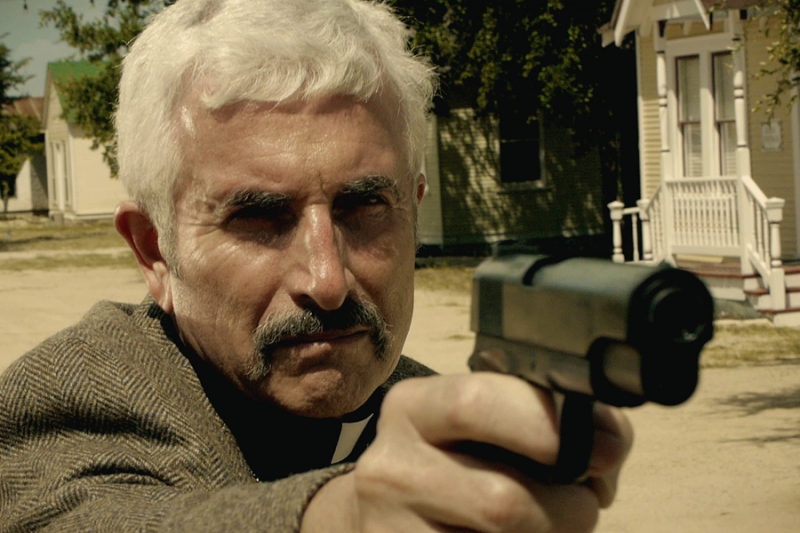 It's an amazing honor to see local filmmakers' work showcased here in town. It's even more amazing when those same filmmakers have the opportunity to present their movies outside of Texas. Such is the case with Austin filmmaker Mario J. Pena and his sci-fi short film The Book of Joe.
Pena's film has been selected to screen in the "Midnight Madness" shorts program on August 17 during the HollyShorts Film Festival in Los Angeles, California. This will be the second festival run for the film following its sold-out world premiere at the Seattle International Film Festival's Shorts Fest Weekend this past June.
The film was produced and shot last year here in Austin, and is Pena's most recent collaboration with producers Alex Davis-Lawrence and Samantha Rae Lopez, as well as art director Dana Archip. Archip and Pena's previous work includes the winner of the 2010 Fantastic Fest Bumper Competition, Cherry Pie. The Book of Joe also appears to be a first for several local actors, including Geronimo Son, Stephanie Ard and Mike Vera.
The Book of Joe is a 9-minute short set in Southern Texas. In a unique turn of events, a stand-off occurs between Joe (a devoted priest), an angel, Death and Jesus himself in a battle for the destiny of Earth. The end result, however, is one you won't see coming.
Producers Lopez and Davis-Lawrence are excited for the possibilites that a L.A. premiere can provide for the filmmakers.
"Showing our film in LA is a great opportunity for our team to network with industry professionals, such as distributors and other producers. Not only is L.A. a great place to screen, but HollyShorts is a reputable festival with a track record of giving filmmakers some big opportunities after their screenings," Lopez told Slackerwood.
Davis-Lawrence is most excited to see the film come to fruition with everyone's hard work. "From the beginning, The Book of Joe was a labor of love for all of us," he said. "It's been over a year and a half since Mario first made the decision to move forward with his idea, and the amount of work we've all put into his vision was (and continues to be) immense."
Pena will be in attendance at the screening, as well as "Jesus himself" (Geronimo Son). Pena just finished shooting a "Don't Text During the Movie" promo bumper for the Film Four Fright Fest in London with Lopez and Archip, and is excited for it to hit the big screen soon.
When asked what he hoped the Los Angeles premiere would do for the film, Pena's response was that he's "really looking forward to a Texas premiere soon." Take note, Texas film fests.
You can purchase tickets to the "Midnight Madness" shorts program here.
[Photo credit: Still from The Book of Joe courtesy of Mario J. Pena, used with permission.]