Review: We're the Millers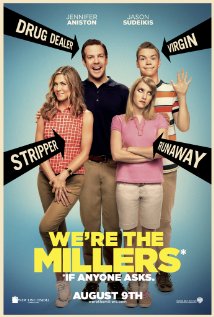 Humor in the vein of The Hangover or There's Something About Mary has become predictable in its attempts to shock and disgust. We're the Millers is more of the same. The story is so painfully simple, the biggest surprise is that it took four writers (Bob Fisher and Steve Faber of Wedding Crashers and Sean Anders and John Morris of Sex Drive and Hot Tub Time Machine) to bring it to life.
Directed by Rawson Marshall Thurber (Dodgeball), Jason Sudeikis stars as David Clark, a thirtysomething pot dealer who gets in a bind the one time he tries to do the right thing. With his supplier's stash along with his own life savings stolen, David finds himself choosing between death and a simple drug-muling mission across the border in Mexico.
In need of a cover, he recruits neighbors Rose (Jennifer Aniston), Kenny (Will Poulter), and Casey (Emma Roberts) to pose as his white-bread American family. The makeshift family then bonds over the course of a road trip filled with the usual hijinks involving such topics as forced gay sex, incest, wife swapping, attempted rape and the obligatory shots of genital exposure.
Sudeikis is treading water here, playing the straight man through most of the antics against such talented foils as Ed Helms, Luis Guzmán, Kathryn Hahn and Nick Offerman, who gets some of the best material in the script. Though not rich with complex plot, the script is good for a few laughs with a number of clever one-liners.
We're the Millers is most notable, perhaps, for Jennifer Aniston's considerable exposure. The 44-year-old actress builds here on an image she began to cultivate in 2011's Horrible Bosses as a down-on-her-luck stripper looking for something more out of life. One scene involves proving her talents in a dance straight from millions of adolescent fantasies about what happens in 18+ establishments. To call the performance risqué would stretch the limits of the word. But if you're aiming for an R rating these days, might as well make sure you earned it.