Lone Star Cinema: Along Came Kinky...Texas Jewboy for Governor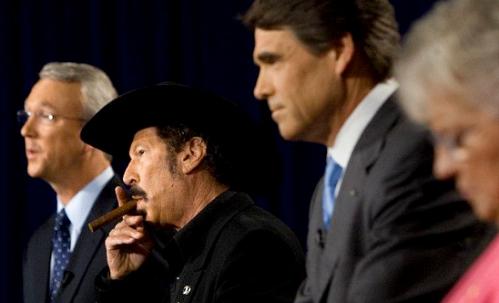 Why the hell not?
-- Campaign slogan for Texas gubernatorial candidate Kinky Friedman
Should Kinky Friedman be governor of Texas? There are plenty of reasons why the hell not. There also are plenty of reasons to watch Along Came Kinky ... Texas Jewboy for Governor, a lively 2009 documentary about Friedman's quixotic campaign for the office.
A mystery novelist, satirist and proudly offensive musician by trade (his band, the Texas Jewboys, was famous for songs like "Asshole from El Paso"), Friedman entered the 2006 Texas gubernatorial race with no political experience but plenty of name recognition as a Texas icon. He found himself in an unprecedented four-way race that offered voters and pundits plenty of political Lone Star lunacy.
The campaign was surprisingly fierce and competitive, at least to determine who would be runner-up to incumbent governor Rick Perry. Perry relied on his incumbency and redder-than-red conservative record to remain comfortably ahead in the polls and fly above most of the political fray throughout the race. Meanwhile, Friedman locked horns with mostly unknown Democrat Chris Bell and brash longtime Texas politician Carole Keeton Strayhorn (like Friedman, an independent candidate) in a battle for the voters' attention, if not a realistic bid for victory.
As Along Came Kinky deftly shows us with lots of great footage, Friedman's campaign was nothing if not entertaining. The media and his legions of fans loved his colorful, crowd-friendly demeanor; he was always quick with a joke, and his slightly scruffy grassroots campaign staff did an impressive job of getting him on the ballot and keeping him in the limelight.
But the media -- and the voters -- did not love the Kinkster's obvious political naïveté. His platform was little more than a collection of populist one-liners, and he was evasive when pressed for policy details. His disastrous debate performance was the campaign's most memorable teachable moment. And he seemed genuinely perplexed when his opponents smeared him as a racist for comments he made decades earlier in a satirical comedy routine. Did he not think they would use his history of political incorrectness -- satirical as it was -- against him?
Along Came Kinky's difficult task is to distill more than a year of campaigning into a coherent 90-minute portrait of not only the oddball Friedman and his oddball quest, but also Texas politics. The task is all the harder because there isn't much suspense -- we all know who won the race (hint: he and his hair are still in office), and the 11th-hour implosion of Friedman's campaign is still fresh in the memory of anyone masochistic enough to follow Texas politics. (As Molly Ivins said, "Good thing we've still got politics in Texas -- finest form of free entertainment ever invented.")
Fortunately, the movie more than succeeds at this task. It's a hoot of a character study, a surprisingly poignant chronicle of a campaign and a great resource for political research. Friedman is due much of the credit, of course -- he's a man born to be in a documentary. He's a gift that keeps on giving to the filmmakers, from clips of his notorious 1975 appearance on Austin City Limits (a show so gleefully vulgar and sacrilegious, it's the only ACL episode never to air) to his obvious earnestness on the campaign trail. His staffers and hangers on are also an entertaining bunch, all unafraid to speak their minds. The presence of über-odd bird Jesse Ventura -- whose endorsement was of dubious value -- makes the film even more amusing.
But beyond Friedman's captivating presence, director David Hartstein displays both a talent for filmmaking and a great understanding of Texas politics. Despite everyone's requisite optimism, the race's outcome is never really in doubt. So Hartstein focuses instead on the personalities involved, the sometimes unpredictable nature of politics and the way various curve balls affect Friedman's campaign. (His irreverence won him lots of fans, but it couldn't save him as he dealt with accusations of racism.)
The four candidates could not be more different, so Along Came Kinky makes the most of their contrasting personalities and platforms. These contrasts create some of the film's most interesting and sometimes surprising moments. For example, the exchanges between the wisecracking Friedman and the competent but colorless Bell (who suspects Friedman is stealing some of his votes) are unexpectedly friendly, and seemingly genuine.
Hartstein also has the good journalistic sense not to make Along Came Kinky a PR vehicle for Friedman. The tone is humanizing and usually sympathetic, but the film cuts the Kinkster no slack when he avoids substantive policy discussions or gets defensive about his mistakes. (The other candidates get no passes either, especially Perry when he arrogantly skips a post-debate press conference.) The warts-and-all Along Came Kinky is no more reverent of Friedman than Friedman is of the world around him.
My only criticisms of Along Came Kinky are that it relies a bit too much on talking-head opinions and drags slightly after the first hour. But these minor faults barely detract from an engaging documentary that Friedman fans and political nerds will enjoy and shouldn't miss.
Along Came Kinky is available on VOD and DVD at the film's website. The DVD has several interesting extras, including deleted scenes, a Q&A from the 2009 SXSW Film Festival, campaign ads and a stills gallery. Texana and political film collectors will find it worth the $15 asking price.
Austin/Texas connections: Along Came Kinky was filmed in Texas towns large and small along the campaign trail, including many Austin locales. David Hartstein lives in Austin and earned an MFA in film production from The University of Texas at Austin. The producers and crew are Austinites, including executive producer Paul Stekler, a UT Austin film professor and veteran political documentary filmmaker.