Review: Still Mine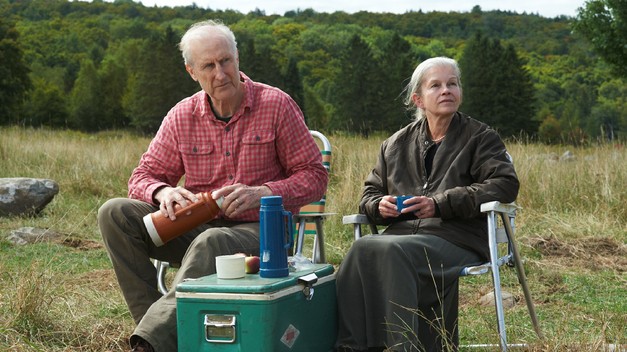 The subject of age in film has always been a fascinating one to me. Hollywood tries so hard to focus on the next up-and-coming star or starlet, glorifying them in HD on the big screen. We as audiences are looking to stay forever young through the films we watch too, focusing on what we can do to make ourselves look thinner and younger, just like these celebrities.
That's why films like Still Mine are important to me. It's not often that you see a film that focuses on the struggle of the later years in life, when family has grown up and moved on. In a film world full of romantic comedies often centered on young people, we don't often hear the stories of the ones who have lived through the most.
Craig (James Cromwell) and his wife Irene (Geneviéve Bujold) have been married for 61 years. They live a simple life on a farm, we are introduced to their daily activities: raising cattle, harvesting their own vegetables, and essentially living off the land that they own. Their daily routine is unbreakable and content, until Irene begins to lose her memory. Little things at first, but each day seems to get worse once she stops remembering things like where she lives or where things are in the house. Without Irene's contributions towards the upkeep of their property, Craig realizes that it is too big of a homestead for them to take care of. In an effort to help Irene regain her memory as well as to take on a new challenge, he decides that he is going to build a new home for them elsewhere on their property.
This project doesn't prove to be as easy as Craig had hoped. He ends up having to jump through hoops with building permits, lumber inspections, and faces one violation after the other. Even in spite of his family and friends' request to slow down, he remains determined to finish. As the city finally threatens to tear down his new home, Craig must decide what is most important to him: letting the law bring his project to a halt, or continuing to build for Irene in spite of it all.
The film has a nice quietness to it, similar in tone to the imagery we see on screen -- simple and organic. Cromwell and Bujold's performances are striking, reflective of a couple who have gone through many years of ups and downs in their marriage. (The film is actually based on a true story.) It's clear that writer/director Michael McGowan wanted to focus on the story and performances rather than flashy camera work or soundtrack. This is a choice not many filmmakers seem to make today, so to see his use of elemental storytelling was a nice change of pace.
I finished this film with a sense of hope, admiring Craig's fight. Even though life may slow down a bit as we age, we will still have obstacles we must overcome. There will always be those who tell us we cannot do something, or that we should give up. Still Mine proves that love and livelihood are two things worth fighting for; you should never give up on them, no matter how old you are.