Ready, Set, Fund: Community and Comedy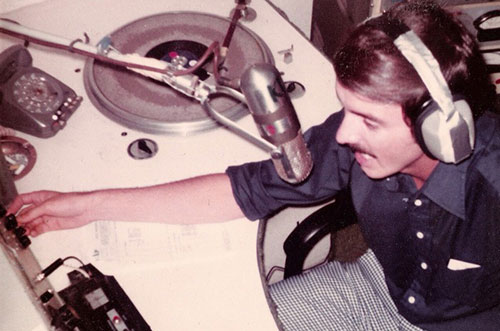 Ready, Set, Fund is a column about crowdfunding and related fundraising endeavors for Austin and Texas independent film projects.
Local non-profit Cinema Du Cannes Project was created to empower "at risk" teenagers in Austin by involving them in the art of cinematic digital storytelling and digital media production. Youth-led teams produce films for submission into film festivals across the nation and world, including the Cannes Film Festival Court Metrage. In addition, participants learn valuable skills and support the community by producing public service announcements and videos for other local non-profits.
This summer the organization is producing a documentary, 40 Years - On the Air, which is currently funding on Kickstarter through August 4. This hour-long documentary features local media icon David Anderson -- seen above in an archive photo-- whose radio broadcast career has spanned over 40 years.
An exciting local film-related project funding on Kickstarter through Saturday, August 17 is the Capital City Black Film Festival (CCBFF) founded by UT alumni Winston Williams and filmmaker Harrell Williams. This new Austin film festival, which takes place at the Stateside Theatre at the Paramount September 26-28, will feature films from black filmmakers as well as panel discussions with film veterans. The festival is raising funds to cover venue space rentals, with extra funding to go towards awards for film competition winners.
Local filmmaker and writer Bradley Jackson has teamed up again with his fellow producers of The Man Who Never Cried, including Russell Wayne Groves (Lord Montagu) and Andrew Lee (DMT: The Spirit Molecule), for a new project called Intramural: The Movie. This feature-length comedy, written by Jackson and directed by Andrew Disney of Frank's Last Shot and Searching for Sonny, focuses on a group of college students in their fifth and final college year who form an intramural football team. Intramural is currently funding on Kickstarter through Tuesday, August 20.
Intramural began filming in Austin last week -- check out the just-released production still above of the "hero team" from left to right: Sam Eidson (Zero Charisma), Brian McElhaney (Much Ado About Nothing), Gabriel Luna (Bernie, Dance With The One), Nick Rutherford (Good Neighbor comedy group), with Will Elliott (Austin High) along with Jake Lacy (C'est Moi).
Austin writer and director Jay Hollinsworth (Broken) is collaborating with cinematographer Clay Liford (Gayby) and Austin Film Society staffer and producer Ashland Viscosi for his short film project From the Gut, which is seeking funding through Kickstarter. This mockumentary tells the story of normal guy Gerald Lindsey, who has the unique ability to produce objects out of thin air by vomiting. The local cast includes Byron Brown (Grow Up Tony Phillips), Kelli Bland (The Bounceback), Chris Doubek (Computer Chess), Bill Wise (Computer Chess), and Jennymarie Jemison (Loves Her Gun).
Byron Brown will be quite busy this summer -- he's also appearing in the feature-length comedy The Frye Brothers Had a Threesome by local filmmaker Ronald Short (Billi & Theodore). In addition to Brown, Short has also secured a cast and crew of local comedic talent including Sam Eidson (Zero Charisma) and Mike Vera (online comedy group MooseStache). This film project about two brothers who cross the line of brotherly love when they share the one thing they will regret is currently funding on Kickstarter through Wednesday, August 21.
Other Austin film-related projects funding this month:
Have a project that you would like to be considered for an upcoming "Ready, Set, Fund" feature about crowdfunding and related fundraising endeavors for Austin and Texas independent film projects? Contact us and use the subject line "Ready, Set, Fund" to tell us more about it.