Review: The To Do List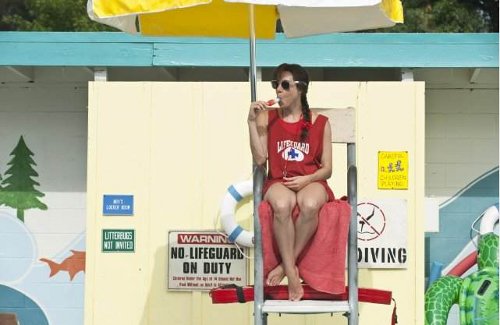 The 80s and 90s brought us numerous coming-of-age comedies about the innocent young man who wants to gain experience with young women and finds himself in the middle of any number of raunchy and/or outrageous situations.
With The To Do List (it's killing me not to put a hyphen in there) the scenario is reversed, and this time a young woman seeks sexual experience and adventures. Set in the early 1990s, the movie intentionally calls back to those male-centered raunchy sex comedies, but this time a female actually experiences sexual gratification onscreen.
It is a refreshing change. When was the last time you watched a movie in which a female character had an orgasm? (Sorry, Mom.) And not a pretend one in a deli, either. I am talking about a woman who enjoys sex and isn't punished for it by being eaten by a shark or knifed by a serial killer or the victim of a fatal disease. It grows very tiresome.
Brandy (Aubrey Plaza) is her high schools' valedictorian, graduating with every academic honor under the sun ... but knowing nothing about sex or intimate relationships. She finds this out the hard way (no, that's not a pun, stop it) and addresses her lack of knowledge and experience in a way that any brainy teenage girl might: She compiles a list of activities that will prepare her for being sexually comfortable and experienced when she arrives at college.
Happily for her, she has two best friends and a big sister who offer support of various kinds. Her mom (Connie Britton) is a nurse who offers some practical advice about sex to her daughters ... much to the dismay of her husband the judge (Clark Gregg), who would prefer to discourage his girls from anything remotely sexual until they are married. And of course there are various male acquaintances who will serve as the guinea pigs in these experiments.
Plaza is fun to watch in a role that that suits her perfectly, and she's supported by a colorful and amazing cast of personalities. Everyone gets a moment to shine. Bill Hader's clowning as the pool manager gets a lot of well-deserved laughs, but I was more charmed by Clark Gregg, whose Judge Klark would have felt right at home commisserating with the movie dads from 10 Things I Hate About You (Larry Miller) and Clueless (Dan Hedaya).
Brandy's adventures as a community-pool lifeguard by day recall any number of summer-coming-of-age films from Caddyshack (which gets a direct and disgusting shout-out) to Fast Times at Ridgemont High (which gets an indirect and hilarious riff). The movie seems to drive home the "Hey, this is 1993 and isn't that hilarious" point a little too heavily at times, from scrunchies and skorts to pop-culture references, but that's a minor quibble. Many of Brandy's sexual discoveries are hilarious (dear lord, Christopher Mintz-Plasse and Donald Glover) but a few have a level of emotion beyond the laughs -- I either wanted to cheer on Brandy or give her a huge hug.
And while I enjoyed the generally shame-free attitude toward female sexuality, some of the gross-out jokes were a little too gross for me. Also, you can hear enough tiny-tit jokes very quickly, although having heard most of them too often in high school myself, I may be somewhat sensitive on this point.
In short, The To Do List is a lot of fun and you get the added bonus of female leads in a summer where such a thing has been difficult to find.
Austin connections: Writer/director Maggie Carey is a graduate of the Michener MFA program at The University of Texas at Austin. Former Austinite Kevin Brennan (It's a Disaster, Cinema Six) has a small role. Austin Film Festival hosted a special script reading for the screenplay (back when it was titled The Hand Job) back in 2010. (Oh, and see if you can spot the Shawn Colvin t-shirt.)
Look for my interview with Maggie Carey on Slackerwood in the next couple of days.