Review: Turbo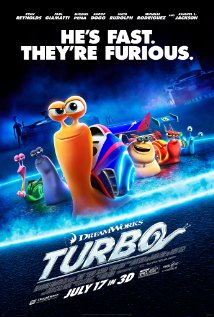 Though Pixar has an army of fans ready to support it as the animation studio producing the best movies, Dreamworks now has a string of productions that show the Pixar is no longer in a class by itself. Though some wildly popular Dreamworks properties (Shrek, Shark Tale) don't draw critical acclaim, the studio continues to release franchises (Kung Fu Panda, Madagascar) and one-offs (Rise of the Guardians, Monsters vs Aliens) enjoyed by critics and audiences alike. This week along with the teaser announcement of the sequel to the studio's greatest hit, How to Train Your Dragon, comes a surprising little gem best described as something like "Cars meets Charlotte's Web."
With an unknown director (David Soren, in his feature debut) and writers responsible for films like Jack the Giant Slayer and Shrek Forever After, I didn't expect much from Turbo. It turned out to be a surprisingly good time. Ryan Reynolds voices the title character -- Theodore, a young snail obsessed with auto racing who prefers the nickname Turbo. When a wish on a star and a DNA-altering freak accident give him the speed he has always desired, Turbo finds a new home among snails more appreciative of his talents.
Reynolds is joined by an enormous lineup of acting talent that includes Paul Giamatti, Michael Pena, Luis Guzman, Bill Hader, Richard Jenkins, Ken Jeong, Michelle Rodriguez, Maya Rudolph, Ben Schwartz, Kurtwood Smith, Snoop Dogg and Samuel L. Jackson.
Turbo is a contemporary story set in a visibly recognizable Los Angeles, but the script doesn't rely on force-feeding the audience current pop-cultural references for its humor. However, the tagline for the poster, "He's fast. They're furious," however is brought to life in the movie when Turbo finds himself dropped into the middle of a race straight from that franchise.
This scene lands Turbo a spot on my growing list of "3D movies worth watching in 3D," as throughout the film, the technology strongly helps illustrate and enhance the sense of difference in scale between the world of the snails and the humans with whom they come to interact. It's a gorgeous film. Visually, the world of Turbo is much much richer than the simple mollusk characters would lead you to believe.
Dreamworks Animation is now producing great family movies I find more appealing than much of Pixar's catalog, and this is one of them. While full of fun and exciting racing action, Turbo presents affirmative messages about dreaming big, never giving up and stepping outside your normal boundaries while playing to your strengths. It also stresses the importance of family support in difficult times. It's the best kind of family-friendly film, one that's actually fun for the whole family.