That's Genius: Zellner Brothers Pick 'The Plague Dogs'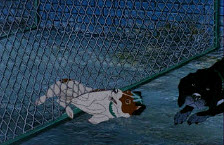 Born from a conversation between Austin Film Society programmer Lars Nilsen and local actor/filmmaker Jonny Mars, a new AFS recurring series starts in July: "That's Genius." In the words of Nilsen, the film series will serve as "a way for film professionals to share works that they [think represent] 'genius' in the world of some film discipline."
Austin filmmakers David and Nathan Zellner -- who directed the features Kid-Thing and Goliath -- have selected the inaugural movie in this series: the 1982 animated movie The Plague Dogs [tickets], which screens on Thursday, July 25 at the Marchesa. The Zellners will host the event, and filmmaker Martin Rosen will attend for a post-screening Q&A.
The Plague Dogs, which Rosen adapted from the novel by Richard Adams, follows two dogs who escape from a lab that has been performing tests on them. As a result of the experiments the lab has been running on animals, the nearby town fears that the dogs may be plague-carriers. The voice cast includes John Hurt, Nigel Hawthorne, James Bolam ... and in minor roles, Judy Geeson and Patrick Stewart. Rosen also directed a 1978 adaptation of Adams' most famous novel, Watership Down.
David Zellner says, "The Plague Dogs is a vastly underrated animated feature that doesn't seem to get the attention it deserves. It's beautiful, haunting and sad, and in spite of it staring two anthropomorphic dogs, has more emotional resonance than most live action films could ever hope to."
[Still from The Plague Dogs via Film Walrus]