Summer Films Antidote: July 2013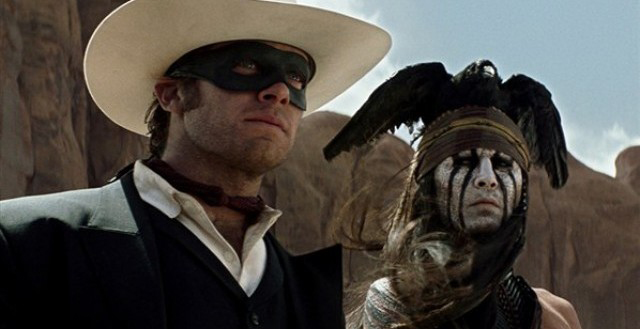 Summertime at the movies typically spells excitement for some and skepticism for others. With most films coming from some previously existing property, it seems like audiences don't seem to have much cinematic choice during prime moviegoing season. So rather than just accept whatever the studios force upon you this month, here are some alternative choices to help make it through.
In theaters: The Lone Ranger (7/3)
Adding to the list of Johnny Depp's wacky assortment of characters this summer is his big-screen take on Tonto, the Native-American sidekick from the TV series The Lone Ranger. Starring alongside Armie Hammer (The Social Network) as the titular crime-fighter, Depp and the filmmakers seem determined to transform a beloved classic about the West's take on law and justice into 21st-century summer gold.
Antidote: Dark Shadows (2012)
If Depp is content on producing/starring in movie remakes of his favorite TV shows, then its best to revisit 2012's harshly judged Dark Shadows (Elizabeth Stoddard's review). Based on the campy supernatural 60s soap opera, the film tells the story of Barnabus Collins (Depp), an 18th-century playboy who is transformed into a vampire after breaking the heart of a witch, and is entombed for two centuries before being released. Many were no doubt exhausted by Depp's collaborations with director Tim Burton, yet Dark Shadows provides them with their most entertaining vehicle in years. While the film temporarily loses focus during the second act, its many virtues save it. The production design is a true wonder, the tongue-in-cheek humor is ripe, the chance to see Depp act opposite some of today's foremost leading ladies (Michelle Pfeiffer, Eva Green) doesn't disappoint and the ending is delightfully overblown gothic soap opera.
In theaters: Pacific Rim (7/12)
In a season with very few original screenplays in existence, its easy to see why horror/fantasy maestro Guillermo del Toro's Pacific Rim is one of summer's most anticipated releases. This giant robot vs. otherworldly monsters epic, with elaborate action sequences and impressive effects, distinctly bears del Toro's trademark.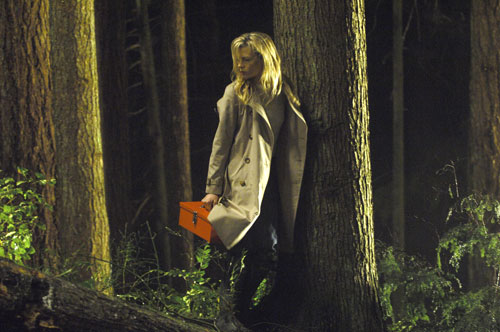 Antidote: While She Was Out (2008)
Like many other filmmakers of his stature, del Toro has ventured beyond his own scripts by honing smaller films to screens. Case in point is this little-seen 2008 thriller with Kim Basinger. Executive produced by del Toro and co-written/directed by Susan Montford, While She Was Out portrays Basinger as a battered suburban housewife who encounters a gang of thugs in a mall parking lot on Christmas Eve. While the premise may read like standard exploitation, the film slickly avoids ever falling into that category. Instead, While She Was Out plays like a true cat-and-mouse thriller while also exploring a tormented individual's psyche. The ending might be far-fetched or justly deserved depending on the viewer, but While She Was Out remains an excellent example of del Toro's fascination with the darkness of the outside world.
In theaters: Red 2 (7/19)
The first Red (Slackerwood's review), the tale of a group of retired espionage agents accidentally called back into duty, was a surprise hit in 2010. So naturally there had to be a sequel. Once again starring Bruce Willis as the group's leader with returning cohorts Helen Mirren and John Malkovich, along with new additions Anthony Hopkins and Catherine Zeta-Jones, the star power is aplenty.
Antidote: Last Man Standing (1996)
Set in Prohibition era-Texas, Last Man Standing casts the aforementioned Willis as a mysterious gunslinger who enters a nearly barren town run by opposing gangs. What first appears as a Willis vehicle is saved thanks to strong work from Christopher Walken and Bruce Dern, both of whom are at the top of their game as a mob boss and sheriff, respectively. In a way, Willis' John Smith could be his Red character's grandfather. Both are decidedly antiheros who are simply out to protect their own skin. Filmed on location in Texas, Last Man Standing is a throwback to a genre many filmmakers love, but seldom get right. Though it's not the definitive shoot-'em-up Prohibition Western, it more than admirably ticks off all the required boxes on the genre's checklist.
In theaters: The Wolverine (7/26)
Many were (understandably) disappointed when Logan went solo in 2009's X-Men Origins: Wolverine mainly due to a shoddy script. It's for this reason that expectations for The Wolverine, which sees the main character battling against an old nemesis, range from low to lukewarm.
Antidote: Identity (2003)
Without question, The Wolverine's biggest asset is its director, James Mangold, who has run the gamut of movie territory from mental illness, to time travel, to Tom Cruise. Somewhere in between lies his often-forgotten thriller Identity. Set in a stretch of backwoods highway, a group of strangers find themselves stranded at a desolate motel where they each begin to die one by one. From the offset, Idenitity's architecture as a story pulls audiences in as it presents a new twist on the standard whodunit. From suspicious coincidences to its assorted red herrings and a seemingly irrelevant framing device, Identity maintains genuine suspense until its final moments.
Frank Calvillo is an Austin Film Society intern.