Lone Star Cinema: Rush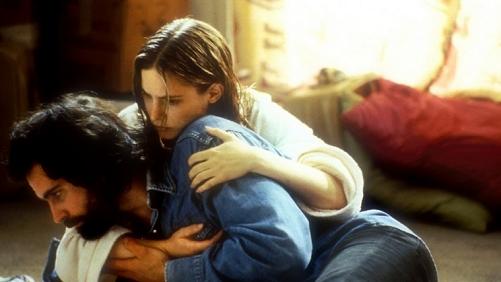 Gregg Allman has had a fabulous career as a musician, but he could have been just as successful as a drug dealer.
That is, if he could be as intimidating as his drug-dealing character in the crime drama Rush. Allman portrays dealer William Gaines in an almost wordless performance; Gaines rules his seedy empire with quiet, menacing stares, making customers, rivals and cops think twice about crossing him.
Allman's performance is terrific, as are several others in Rush. Set in 1975 and released in December 1991, the Houston-filmed movie Rush is a gritty, tragic tale of two small-town Texas cops who go undercover to infiltrate the town's drug scene. It's an unnervingly realistic film about the morally murky world of drug trafficking and narcotics enforcement, where the line between right and wrong isn't always clear.
Rush's story is gripping if not original. Assigned the difficult and dangerous job of bringing down Gaines, veteran narc Jim Raynor (Jason Patric) chooses young officer Kristen Cates (Jennifer Jason Leigh) as his partner. Cates has no experience with drug enforcement or undercover work, so Raynor's first job is to teach her to be a convincing junkie, to the point of doing drugs with the dealers to establish credibility.
Cates takes to her role easily, pretending to be Raynor's girlfriend as the two buy drugs from dozens of local dealers. As they work long, stressful days together, their fake relationship becomes real. They also find themselves sucked into the scene they're trying to bust, taking their work home with them, helping themselves to the evidence and jeopardizing their cases. Soon enough, they're both hooked on various pills and powders; this isn't the first time for Raynor.
Cates and Raynor's boss, Dodd (Sam Elliott), is sympathetic when he discovers their habits. But the new police chief, Nettle (Tony Frank), isn't so forgiving -- he'll let them off the hook only if they deliver the elusive Gaines, who so far has refused to sell to them. This is Rush's essential moral dilemma: Do they set up Gaines to shut down his business and save their own jobs?
Again, not a terribly original plot. But Rush is a strong (although sometimes uneven) film, one that focuses on the characters' relationships and inner conflicts rather than relying on police procedural clichés. It's a psychodrama, not an action flick. It treads its familiar cops-turned-junkies ground with a solid script by Peter Dexter and great acting, especially from Patric and Leigh, who are harrowingly believable as their characters descend into drug-addled dysfunction and paranoia.
Rush is all the more real because it's based on a novel by former cop Kim Wozencraft, who based the book on her own life story. Born in Dallas, Wozencraft became an undercover narcotics officer at age 22 in Plano, where she worked and fell in love with an older male partner. In 1979, the two worked in Tyler on an large-scale undercover investigation. Like Cates, Wozencraft also became an addict. Rush is essentially the story of the Tyler drug bust; for more details, read this Philadelphia Inquirer article. (The article contains spoilers.)
Beyond its strong performances, Rush also is remembered for its soundtrack. A mix of classic rock and country standards like "Freebird" and "I Fall to Pieces" and bluesy instrumental tracks by Eric Clapton, the soundtrack also includes Clapton's megahit "Tears in Heaven," which was nominated for a Golden Globe, a Grammy and an MTV Movie Award.
Rush was a hit with many critics, who lauded Patric and Leigh's performances and the film's dark realism. It was less successful at the box office, with a January 1992 wide release that audiences mostly overlooked. Which is a shame, because Rush is a well-made, authentic and engaging movie. It's not in league with the best of Texas crime noir (there are a few plot holes, and the characters' motivations sometimes aren't clear), but it's a watchable and atmospheric take on the criminal underworld in small-town Texas.
Rush is available on a DVD with a few nice extras, including a commentary track by director Lili Fini Zanuck, Filming Rush featurette, "Tears in Heaven" music video, theatrical trailer, Spanish dubbing and English, French and Spanish subtitles. New copies are pricey, however, costing upwards of $30 on Amazon.
Austin/Texas connections: Rush was filmed in Houston and based on real-life events in Tyler. Tony Frank was born in Nacogdoches and appeared in many Texas films, including Lone Star and Tender Mercies. About a dozen Texas actors appear in minor roles. In a bar scene, the band's front man is Austin musician Charlie Terrell.