Review: Monsters University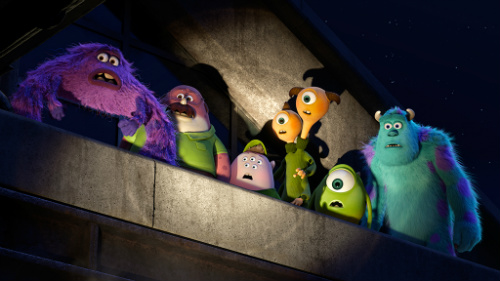 Pixar's wonderful film Monsters, Inc. introduced us to scare team Sulley (John Goodman) and Mike (Billy Crystal) who discover and unravel an insidious corporate plot after they meet cute human toddler Boo. There, Mike mainly serves as a comic sidekick for Sulley, while coming up with such musical hits as "Put That Thing Back Where it Came From (Or So Help Me)." In Monsters University, which opens this week, we learn how Mike and Sulley first met, but this time Mike gets more of the spotlight.
One-eyed green monster Mike Wazowski has never fit in and desires to stand out. Upon a field trip to Monsters, Inc. as a kid, he decides his goal in life is to be a scarer, and one of the guys on the scare floor recommends attending Monsters University. Fast forward 10 or so years and we see Mike in his first days on campus. He is studious and book-smart, but is told by the dean of the scare school (Helen Mirren) that he just isn't cut out to scare.
Mike and Sulley, far from being friends yet (more like angry acquaintances), come to be kicked out of the scare program and are both determined to get back in. The two join fraternity Oozma Kappa, a small group of geeky misfits, so they can compete in the Scare Games. There's no big bad here! Just self-doubt and slight antagonism from other characters.
You could probably watch Monsters University without seeing Monsters, Inc. first, but if you're choosing between the two movies, watch Monsters, Inc. Since it's a prequel, there's no Boo on the scene here, and frankly, I missed her cuteness, heart and joy. Monsters University has its heartfelt moments, but the soul of the original seems to be lacking.
Still -- I certainly laughed an awful lot during the screening. The brothers of Oozma Kappa are pretty hilarious, voiced by such talent as Dave Foley, Sean Hayes and Charlie Day. Nathan Fillion perfectly voices the leader of a competing frat, and Aubrey Plaza's Greek Council President sounds a lot like April Ludgate at times.
And if you're wondering, there's no real need to watch this in 3D ... unless that's your preference.
Bonus: The short that precedes Monsters University is The Blue Umbrella, which had its North American premiere at SXSW earlier this year. I had seen it as part of the animated shorts program, so it was neat to see this in 3D. But it's just as lovely in 2D!