AFF's Conversations in Film Delves into 'Neverland' with David Magee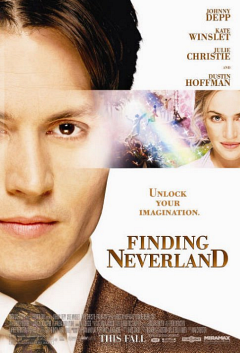 By Ciara Gee
Recently, screenwriter David Magee sat down with Barbara Morgan, co-founder and executive director of the Austin Film Festival, to discuss his first screenplay, Finding Neverland (2004). The event was part of AFF's ongoing Conversations in Film series. Magee's discussion about how he ventured into screenwriting hit several topics of interest to writers.
Getting started
In addition to adapting the play Finding Neverland, Magee has worked on two other adaptations: Miss Pettigrew Lives for a Day (2008) and last year's Life of Pi. Magee started the discussion by sharing how he came to write screenplays.
"I took an unusual route," he told the Austin audience. He meant that he started as a theatre actor and then began doing voiceover work for abridged audiobooks. It was during this time that he encountered a rather difficult project.
"One night, after reading an awful abridgement of a novel, I said to the producer, 'I can do better than this.'" The producer called his bluff, suggesting that Magee try his luck at writing his own abridgement to the piece. He came through and, over the following five years, succeeded in abridging more than 80 audiobooks.
Chancing upon a project
During this time, Magee had the opportunity to become acquainted with a producer who introduced him to Allan Knee, a playwright who had adapted Little Women into a musical for the stage. Knee had recently written "The Man Who Was Peter Pan," a story about the life of playwright J. M. Barrie, which he expanded into a play of the same name. The producer, aware of Magee's knack for successfully abridging novels, encouraged him to adapt the play The Man Who Was Peter Pan for the screen. Always open to trying his hand at something new, Magee agreed.
Once the first draft was completed, the script exchanged hands several times in the New York arts community, eventually catching the attention of film distributor Miramax, which Magee chalked up to "dumb luck." The studio approached him about writing an additional draft.
Excited to have the opportunity, Magee offered to buy the rights to Knee's play. Knee obliged, charging Magee a single dollar. "I took that dollar and used it to write the script," said Magee with a huge grin. Unfortunately, it would be another few years before the script ever became an actual film.
"From the beginning, Marc Forster wanted to direct the project, but this was before he had made Monster's Ball. He had just graduated from NYU." Magee went on to explain that, initially, Miramax did not want a beginner like Forster on the project. It was only after the success of Monster's Ball that Miramax changed its tune and called on Forster to direct the film.
Abridging skills come in handy
Before the search for a director started, Magee first dealt with the difficulty of completing the final draft of Finding Neverland. There was no question that the decades-long timeline of The Man Who Was Peter Pan would have to be condensed a great deal to fit into a reasonable runtime. The play follows Barrie's relationship with the Llewelyn family, which he met in 1897 upon moving to London. He became close with Mr. and Mrs. Llewelyn and their five boys, one of whom was named Peter. The play is about his lifelong tie to this family and how it shaped him, especially as a writer.
Abridging such a lengthy tale required all of Magee's skills. To start, there was one thing he knew he would have to cut right away.
"I knew I didn't want three sets of boys," Magee said. Attempting to cover each boy from childhood to adulthood to middle age would have made for a very long movie and simply would not work. Cut! And what about following the boys as they age, period? That wouldn't do either. Cut!
Magee then decided to compress the timeframe of the storyline, choosing instead to depict one idyllic summer between Barrie and the boys rather than the lifelong relationship they actually shared. Additionally, two important characters were left out; the youngest Llewelyn boy, Nicholas, and the father, Mr. Llewelyn. Due to the film's PG rating, Magee wanted to avoid having both the mother and father die in the film so, he chose to have Mr. Llewelyn's death take place before the start of the story.
Magee told the Austin audience that he credits his ability to reshape narratives to his former days of abridging audiobooks, which trained him in structure and helped him learn "a healthy disrespect for writing."
"You begin to feel less precious about your own words," he added, humorously.
Magee would employ similar editing techniques with his subsequent scripts, especially the thought-provoking Life of Pi, which he initially considered unfilmable due to the abstract nature of the novel. However, after finding out that the talented Ang Lee was set to direct the film, Magee thought differently, figuring it just might work with Lee on board. Not surprisingly, Life of Pi went on to win many accolades, including four Academy Awards.
Next up?
"I'm working on an animated film for Dreamworks," Magee disclosed to the audience. He chose not to go too in-depth about the project, as the details are still being worked out. He simply mentioned that it is about "swimming with the whales" and that it is the first film idea he conceived on his own.
Ciara Gee is an intern with the Austin Film Society.