ATX Television Fest 2013: Reviving Linklater's '$5.15/Hour'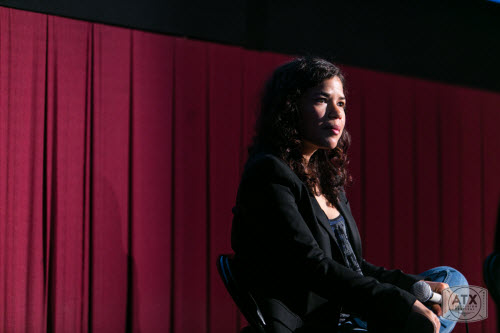 Last weekend, I spent time at the second annual ATX Television Festival, dedicated to celebrating the medium by paying homage to the past, and looking forward to the future of television. One of the highlights of the fest is its category of unaired/never-picked-up pilot episodes. Every year, hundreds of television pilot episodes are created that few if any people will ever get to see. Usually, the pilots into the hands of studio executives, and if they don't like it, those pilots are dead.
Such is the case with Richard Linklater's pilot $5.15/Hr., a comedy show filmed in Austin nearly 10 years ago and pitched to HBO, which was the focus of a panel on Saturday morning. It follows the daily antics of the graveyard or "third shift" of Grammaw's Home Cooking. The employees are crabby, they hate their jobs, they don't make enough money. All of this adds up to the potential for a hilarious premise, but how would it be executed?
The comedy is written for the average everyday worker. While mostly nailing down the dullness and monotony of low-wage food service, many of the situations are applicable to retail work (as I can personally attest). The $5.15/Hr. pilot is smart and incredibly funny with a fantastic cast, with only one semi-household name: America Ferrera (pictured at top), who attended Saturday's screening. Unfortunately, Linklater was unable to attend because he was in Greece promoting Before Midnight.
It's easy to see how at the time, HBO might not have seen the potential for a show like this, but it was really ahead of its time. Filmed in 2004, way before the economic collapse a few years ago, it still feels every bit as relevant today.
At the time, America Ferrera wasn't yet a household name, and this is where the most interesting part of this panel occurred. We learned that when this show was passed over, it was shown only to HBO (which would be obvious because of the language and nudity). HBO passed on $5.15/Hour in favor of another show that in its own defense, did go on to become a huge hit: Entourage. Great as this pilot was, if HBO had picked up this show about a spirited group of diner employees, there would have been no Entourage and probably no Ugly Betty (in which Ferrera starred).
It remains to be seen whether the ATX Television Festival will have the kind of impact in which a panel's positive reaction to a pilot that wasn't picked up could eventually make influential people want to resurrect the series, but this is certainly a show that could easily find a home amongst today's programming. You can watch some clips from the $5.15/Hr. pilot in the embedded video below.
[Photo credit: America Ferrera by Waytao Shing, courtesy of ATX Television Festival]