Review: The Purge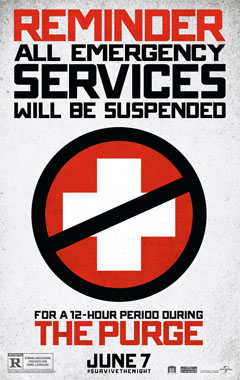 Producers don't often become big figures in the public consciousness of moviegoers unless they are doing truly great things. Jason Blum is doing those great things. He is the man behind the Paranormal Activity franchise, Insidious, Sinister, Dark Skies -- pretty much any great (and original) horror film that's come out in the last few years, he's probably behind it.
The Purge is Blum's most recent movie. It's got an admittedly ridiculous premise, one that could justifiably be mocked and therefore dismissed. In a utopian and not too distant future, crime, unemployment and poverty are virtually wiped out in America due to an incredibly ambitious new law that allows for any and all crime to be legal for a period of 12 hours. This is called the annual purge, and it is a ritual that the entire country takes very seriously.

As with any government initiative, there are detractors and advocates. Some think the purge is a way to legally eliminate the poor since they cannot protect themselves. Most of the time, however, they actually take care of each other while the rich lie safely in their well equipped and armored homes. One such family is the Sandins. James (Ethan Hawke), Mary (Lena Headey) and their two kids, Charlie (Max Burkholder) and Zoey (Adelaide Kane), live in a lavish house in a nice neighborhood. It's a gated community and the neighbors are neighborly if a little gossipy. The Sandins prepare for the purge like they always do, but as kids get older and question things, it's obvious that this night is not going to be like other annual purge nights.

The fascinating concept lends to mind the possibilities of so many scenarios -- not just a plain old home invasion, a completely unoriginal horror film subgenre. As tired as this plot is, though, The Purge makes this situation feel like a completely original concept as a whole. It goes places you don't expect, and there's never a dull moment, even in the first act . It's such a deep film, it fills in the gaps of the conflict that is the debate of whether or not an annual purge does any good.

What makes this movie pop is the amazing acting from Hawke and Headey. An even more important performance in the movie is the kind what makes horror films what they are. The faceless villain eventually has a face and although he isn't representative of the purge as a whole, his reasoning and need to kill makes you side with him (slightly). Plus he's incredibly creepy. That helps too.

On a surface level, if you're a horror film fan and you like blood, gore, gunshots and creepy characters, The Purge has all of that. Of all the franchises that have spawned from Jason Blum's Blumhouse Productions, this has the capacity to be the most interesting and diverse. It is definitely worth checking out this weekend.