Review: Now You See Me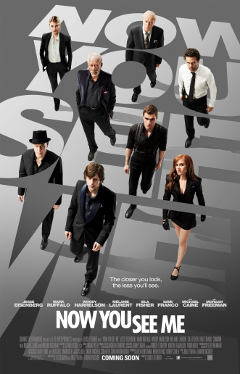 When you assemble a cast like the one in Now You See Me, something magical happens. Terrible pun aside, an ensemble like this really is capable of pulling off some onscreen magic. As clichéd as it might be to say, there's a part in a lot of us that wants to believe in something as cool as magic. What may seem like impossible tricks often have very simple and logical explanations, but where's the fun in that? It's better to sit back and enjoy what the great cast of Now You See Me delivers.

The incredibly charismatic Daniel Atlas (Jesse Eisenberg), a talented all-around magician; a beautiful illusionist, Henley Reeves (Isla Fisher); a mentalist, Merritt McKinney (Woody Harrelson); and an elusive pickpocket, Jack Wilder (Dave Franco) are four street magicians who are brought together under mysterious circumstances by an unknown force. A year after we're first introduced to them, they are the stars of their own traveling magic show. At the finale of their first show, they seemingly rob a back in Paris, all the way from Las Vegas in under five seconds. This draws the ire of investigator Dylan Rhodes (Mark Ruffalo) and Interpol agent Alma Dray (Melanie Laurent).

Now You See Me isn't told like your typical heist film. We are almost entirely with the investigative perspective of the movie, which gets us in close with Ruffalo and Laurent's characters. That isn't a bad thing at all because they are fantastic actors, and they are given a lot to do with with the clever writing of the script. The same goes for the four actors playing the magicians. Every character is given their moment to shine, and with a cast like this that also includes screen legends Michael Caine and Morgan Freeman, this is without doubt a fun film to watch in the summertime.

All of that is true for the first two acts of Now You See Me. As can sometimes be typical of a film that includes the names of Alex Kurtzman and Bob Orci in the credits (they produced the movie, though typically are screenwriters) the third act resembles a fighter jet crashing and burning more so than it does a great magic show, which is what it should feel like. It's a shame when a movie doesn't know how to end. It's one thing to wrap things up in a nice and tidy bow with little to no explanation, but to completely fool your audience into thinking they've been watching a great movie for 90 of the 116 minutes this film lasts is really the greatest trick this movie pulls off.

In the summer season where fun films are readily available to be seen, it's easy to pick and choose which ones to pass up. Now You See Me might make a great rental, but when you could just go watch Fast Six again, you might as well do that instead. Great cast, great dialogue, but a fizzled-out ending aren't worthy of your summer movie dollars.