Movies This Week: May 17-23, 2013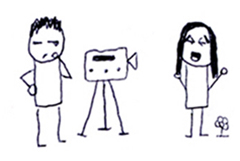 While we wait for various summer movie series to begin, Austin still has lots of interesting alternative film choices this week. And of course the summer blockbusters have begun and you already have your choice of the new movie with the Star Trek gang or the movie that released last week (and therefore is practically ancient) with the man in the iron suit.
Tickets are still available through the Austin Film Society website for Sunday's triple-feature of Before Sunrise, Before Sunset and the sneak peek of Before Midnight, with director Richard Linklater in attendance after the first movie.
On Tuesday, Violet Crown Cinema presents Holiday Road, a comedy in which 13 filmmakers each devote a short film to a different American holiday. UT alum Todd Berger tackled January and October, and Austin's own Kelly Williams was a producer for this anthology.
If you're interested in young filmmakers, AFS presents the 2013 Film Club Spring Festival screening (pictured at right) on Saturday at 10:30 am at the Marchesa, showcasing student projects. The AFS Film Club is an afterschool program that teaches AISD students about filmmaking and other digital media techniques to promote self-expression and creativity. Schools presenting work in the Spring Festival range from elementary to high school.
Alamo Drafthouse Ritz hosts special screenings of Final Cut: Ladies and Gentleman on Friday and Sunday. The film is described as "..a tour through cinema history as a kind of love letter," composed of hundreds of film clips.
Movies We've Seen
Star Trek Into Darkness -- J.J. Abrams delivers the second installment of the reboot of the cult classic series Star Trek, which both builds on the 2009 Star Trek as well re-introduces other classic characters and scenes from the original television series and theatrical releases. Die-hard fans may be a bit conflicted like I was at a memorable scene re-purposed in Star Trek Into Darkness, but the strong character development of the Enterprise crew. Jette says, "The characters are delightful to watch, but the story is a lazily written mess." Look for Slackerwood's review this weekend. (wide)
Other Movies Opening This Week
At Any Price -- Dennis Quaid stars as a third-generation farmer whose small business is threatened by corporate agri-business, and sets him at odds with his rebellious son. (Regal Arbor)
The Iceman -- Michael Shannon stars in this true crime thriller as Richard Kuklinski, the notorious contract killer whose family never knew his real profession. (Arbor)
Gimme The Loot -- Writer/director Adam Leon's first feature-ength film won the 2012 SXSW Best Narrative award. Malcolm and Sofia are "taggers," creating graffiti portraits across the city of New York. Unfortunately rival taggers cover their latest masterpiece with a replica of the NY Mets home-run apple, so the pair decide to make their mark by tagging the actual Mets' apple. With security tough at the stadium, the theft of Sofia's bike and no money, the challenge is greater than expected. (Violet Crown)
In The House -- Sixteen-year-old Claude intrusion into the house of a fellow student leads to a series of uncontrollable events. (Arbor)
Pieta -- South Korean filmmaker Kim Ki-duk's use of ultraviolent imagery continues in his eighteenth film Pieta. An enforcer for a loan shark shows no mercy and great cruelty to those who don't pay back their loans -- what will his reaction be to the woman who claims to be the mother who abandoned him as an infant? (Alamo Drafthouse Slaughter)