Leonard Maltin and 'Lady For a Day' at the Paramount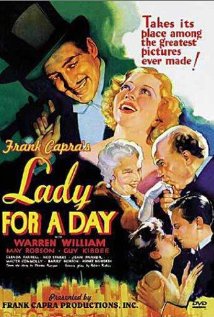 Tickets are currently on sale for a special screening of Frank Capra's 1933 film Lady for a Day at the Paramount. On hand to introduce the movie, and to talk more about classic films in general, will be film critic and historian Leonard Maltin. Maltin was one of the proponents for making this movie available on Blu-ray, and the event will include a rare 35mm projection of the classic, thanks to a loan from the Capra estate.
Lady for a Day is early Capra, made before he really burst on the scene with his big hit It Happened One Night. It's adapted from a Damon Runyon story by Robert Riskin, who continued to team up with Capra on many other movies in the 1930s and early 1940s.
The movie stars May Robson (whom I know best for her role as the daunting Aunt Elizabeth/Mrs. Carlton-Random in my favorite Bringing Up Baby) as Apple Annie, a poor apple seller who tries to convince her daughter overseas, via her letters, that she is really a wealthy woman in high society. But what happens when her daughter comes to visit with her royal fiance? It's sure to be Capra-corn as the director did it best.
"Leonard Maltin: In Conversation" will take place next Friday night, May 24. All seats are the same ticket price, but they are reserved, so if you're planning to go, get your tickets soon.
In related news, the schedule for the annual Paramount Summer Classic Film Series will be announced later this week. You can expect the usual showing of Gone with the Wind at the end of the series.
We already know a few of the selections: The opening night party on Thursday, May 23 (that's the night before the Maltin event) will kick off with Casablanca and Annie Hall. Among the other summer movies, I assume there will likely be a couple of screwball selections, at least one Katharine Hepburn film, and perhaps some Marx Brothers -- maybe even a Thin Man?
You can be assured I'll publish a full post on Slackerwood with my recommendations/favorites from the bunch when the slate is announced!