'The XXXX Saga' Production Diary: That's a Wrap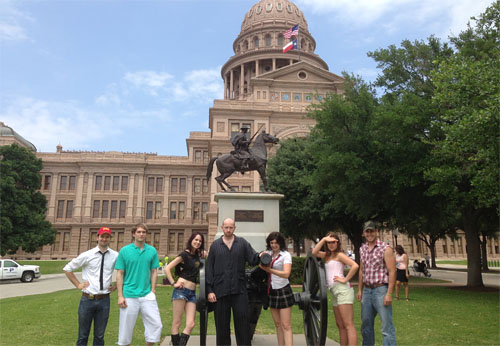 Austin filmmaker James Christopher is directing Twitchy Dolphin Flix's new mockumentary-style features The XXXX Saga: Rise of the Beaver Slayer and The Porn Movie Massacre (no, they're not pornos).

That's a wrap, folks.
It's always bittersweet to say goodbye to a film's cast and crew. For eight months we wrestled with scripts, dove into preproduction and finalized the movie. With over 160 pages and over 50 speaking roles, it was not just the most ambitious film(s) I've done, it's the most ambitious indie film done as our "level." And I'm proud to say that, as hard as it was at times, we pulled it off.
We rolled into the weekend with three very different days. On Thursday, we shot the trailer for the movie within the movie based on everyone's favorite superheroes: Justice Lesbos. On Friday, we rolled the trailer for the movie in the movie for the horror "film" Home-Cumming. And then there was Saturday...
Saturday saw us having to shoot 15 pages in an attempt to get the film wrapped and not have any pickup days (as of now). When we got on set, it was breakneck. And hilarious. Just running through scenes, including some shots at the exterior of the State Capitol.
And then it was over. We celebrated with some Kerbey Lane and beers at Twitchy South, but we all walked away knowing that the experience of working on this film won't ever be repeated. Some of the actors made their last appearance in a Twitchy film and new cast dynamics will reign on future sets. And while we return to action for a short in just three weeks, we can't help but realize that this particular dynamic is over.
So now, we'll move onto editing and continue to finish up our other projects. We can't thank everyone enough for their help and support. From the cast and crew to the folks who donated to the Indiegogo campaign -- we thank you. The future is bright for Twitchy. Shorts are on the way. And of course, we'll see some of you at Scarlet Waters 666 in October.