Texas Films Shine at Cine Las Americas 2013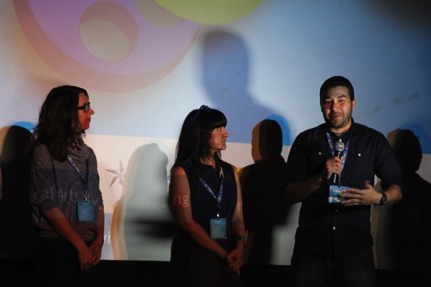 By Mireydi Mendieta-Nunez
The last day of the 2013 Cine Las Americas International Film Festival wrapped with Texas properly represented in the Hecho en Tejas (Made in Texas) program. Executive Director Eugenio del Bosque welcomed everyone in attendance, giving a speech about the importance of supporting the Austin filmmaking community.
Both independent and student filmmakers had the chance to premiere their work to festgoers. Seven short films were showcased, ranging from documentaries dealing with the U.S/Mexico border fence, to one by a UT student filmmaker showcasing her work from Andrew Garrison's East Austin Stories class.
Hecho in Tejas shorts represented different parts of Texas including Austin, San Antonio and Brownsville. Sharon Arteaga, an Austin Film Society filmmaking mentor, debuted her short film Trapitos Sucios (Dirty Laundry). The synopsis reads, "A stay-at-home wife finds a suspicious note while doing laundry." This ten-minute short was hilarious, and is based on an actual event that happened to Sharon's mother while doing laundry.
NYU filmmaker Trish Dalton came down to Texas with her film Southmost U.S.A., which documented the experience of living in Brownsville, Texas near the US/Mexico border. Sam Lerma of San Antonio returned to the festival for his second time with the film Flutter -- watch the trailer below.
During the Q&A after the screening, many questions revolved around the topic of funding student projects and independent films. It was suggested that people reach out to the public through social media and websites like Indiegogo and Kickstarter. It was also encouraged that filmmakers utilize their family and friends to help fund, as well as participate in the making of their films. Sam Lerma mentioned that he's getting to the place in his career where he has started exhausting his friends and family's resources. He plans to pursue grants for his next projects.
Until next year's fest, check out the Cine Las Americas website for year-round programming in Austin.
Mireydi Mendieta-Nunez is an intern at the Austin Film Society.
[Photo credit: Trish Dalton, Sharon Arteaga and Samuel Lerma talk about their projects following the screening.]