Review: Iron Man 3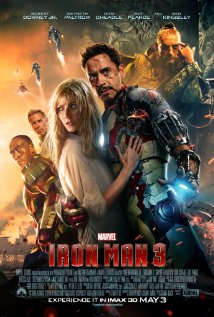 Shane Black is one of the pioneering Hollywood screenwriters of the contemporary action genre. The screenwriter for Lethal Weapon 1 & 2, Last Action Hero and his directorial debut Kiss Kiss Bang Bang now takes the reins of one of the biggest and most-beloved moneymaking franchises in the golden age of comic-book Hollywood. A $200 million budget is proof Marvel and Disney think Iron Man 3 is in good hands, but canon-obsessed fanboys may not agree.
Co-scripted with TV writer Drew Pearce (who's also credited in the upcoming Pacific Rim and Sherlock Holmes 3), this entry in the series incorporates many fan-favorite storylines and characters from the Iron Man comics. Though they're brought together in a mega-blockbuster of an action film, one or two departures from established canon will be the subject of controversy among hardcore fans for the foreseeable future. Naturally, I won't go into specifics here (no spoilers!) but moviegoers who are more interested in what's onscreen and less concerned with the printed page will have a great time. I guarantee it.
If that phrase is familiar to you, you'll understand when I say this movie is all about suits. It's clear from a shot in the trailer that in Iron Man 3, Tony Stark has more suits than a Men's Wearhouse. At least a double-digit percentage of the effects budget must have been spent on animating Stark putting on, taking off, getting into or being knocked out of one of his battle-armored suits. In fact, Robert Downey Jr. probably spends more screen time putting on his superheroic suits than actually fighting in them.
That's probably a deliberate choice, as the story heavily involves Stark's internal conflict between spending time with the people he loves and spending every moment working to protect them. This is a struggle we've seen before in films like Superman II, when Clark gives up his powers to be with Lois, or to an extent in the 2007 Spider-Man 3, when Peter Parker's emotional turmoil affects his superhero abilities.
After the events at the end of The Avengers, Tony Stark is suffering from insomnia and panic attacks as he works ceaselessly to improve his armor designs. After challenging a mysterious terrorist figure known only as The Mandarin to a one-on-one battle, the resulting surprise (?) attack leaves him stranded, forced to deal with the powerful enemy minus his usual limitless resources and therefore prove Iron Man is Stark himself, and not just the battle suit. This theme is echoed in the heroics of Don Cheadle as Col. James Rhodes, aka War Machine, who likewise finds himself forced to operate outside the suit when they team up.
Though part of a series, Iron Man 3 does little to advance the overall Iron Man story and therefore stands out very well on its own. Stark is still full of himself, but we see more of the resourceful spirit that first got him out of the cave in Afghanistan in the original movie. One of my favorite little touches is that for the first time we see Stark interacting with children (and one overjoyed man-child fan) in several scenes that ground a series full of over-the-top villains and explosions on loan from Michael Bay.
In an interview, Shane Black described Iron Man 3 as "a Tom Clancy thriller," with the focus on real-world type villains and not "two men in iron suits fighting each other." As with the previous Iron Man outings, this is a spectacular action flick that's great for family viewing. Uptight fanboys who deplore its departures from established comic book history are reminded to be thankful and remember the dark days of the mid-90s comic book films, when all Hollywood gave us was Joel Schumacher's take on Batman.