'The XXXX Saga' Production Diary: Week Six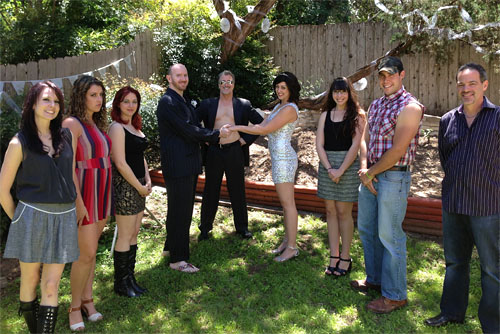 Austin filmmaker James Christopher is directing Twitchy Dolphin Flix's new mockumentary-style features The XXXX Saga: Rise of the Beaver Slayer and The Porn Movie Massacre (no, they're not pornos). Check Slackerwood for his updates as the production continues.
This weekend was, in many ways, what Twitchy Dolphin is about. We shot a lot. And we did a lot of shots! (Not really.)
Twitchy has built a reputation of being a family -- and a team that puts the work first, that is working hard for each other not just for "making it." It's a team that has people traveling from all over to make movies with us. So for our second-to-last weekend, we had Mike Donis (Toronto), Marc Wasserman (LA), Dave Cohen (Florida) and Janet Mayson (Illinois) on set. It's always as much a family reunion as it is work. We've always prided ourselves in making the experience of being on set as much a reward as anything else. I think we did that this weekend.
We started with some XXXX and XXXX2 scenes on Wednesday evening. Andrea Dettling's character Chastity and Mike Donis's Bill England shot their romantic moments. Andrea also did her scenes with Vanessa Perry as Miss Prissy. These scenes dealt with Chastity training Miss Prissy to prepare for life on an adult film set. Yes, a popsicle was involved.
Thursday, we got Billy Kring threatening to use his Smith and Wesson to violate a guy and I took another turn as Mike Antonio, a rather prudish cop. The night was a lot of fun, playing on the police procedural tropes. Billy, one of the nicest guys I've ever known, just killed us as he went on his "I'm tired of defending your crap to the commissioner" rant.
Friday followed, a highly anticipated day. Hard Rocket landed. And Marc Wasserman, in the role, did not disappoint. He's been prepping for months, shredding his body to the point that he refused to take his shirt off at times. Dave Cohen stepped in, making his Twitchy debut as an unfortunate father of two porn star sisters. Not to be outdone, Clif Haley, Sarah England and Ben Tubbs rolled in to shoot their scenes as the writers for XXXX Films. The scene was live, ripe with improv ("Whora the Explorer?") and carrying on. Epic.
Friday followed with a couple of the bigger ensemble scenes, including the Quad X wedding scene. We then decided to have the wrap party. I know, I know. We still have three days left, but with so much of the cast here from out of town for the shoot, we figured what the heck.
And it was epic. We had new shots (Hard Rockets) and Aaron Gaudin's new microbrew imprint Montage Brew made a special brew for the occasion (Vagin-ale). Marc took his shirt off. Over and over again. Beer pong was played, behind-the-scenes pictures shared and we took a moment to thank everyone for all the work on the film so far. We're a family and that's what it felt like. And Marc Wasserman eventually did put a shirt on.