Off-Centered Film Fest 2013: A Very (Hip) Hoppy Weekend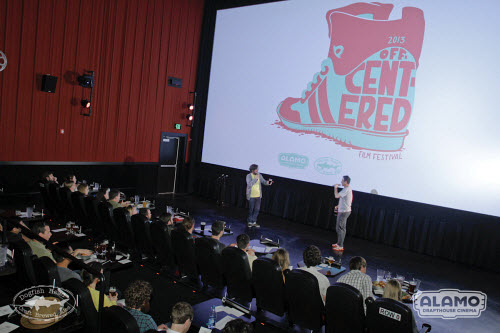 By Cameron Bergeron
If you were at Alamo Drafthouse on Slaughter Lane a couple of Saturdays ago, you might have noticed something special was going on inside the 400 Rabbits bar. Alamo Drafthouse and Dogfish Head Craft Brewery hosted the 6th annual Off-Centered Film Fest. The live DJ and purple t-shirts with high tops on them expressed this year's hip-hop festival theme. Fest events included a live rap battle featuring Austin's owner indie-rap sensation P-tek, a screening of 8 Mile, a reunion of Sam Calagione's craft brew inspired hip-hop act Pain Relievaz and much much more.
The fest kicked off Thursday and continued through the end of the week. Calagione, the founder of the Delaware based Dogfish Head Craft Brewery, brought the best his brewery had to offer, while the Drafthouse and Antonelli's Cheese Shop worked closely together to insure the menu and the beer selection paired perfectly witheach event. The fruits of this diligent work could be savored at the Saturday pre-show mixer at 400 Rabbits. Each available beer was paired with a cheese, or in the case of the Theobroma, a chocolate to complement.
Saturday's main event was the hip-hop inspired short film competition -- with an emphasis on hop. Beer and movie enthusiasts from all around the continental U.S. were represented at the event. Top honors went to Brewmama from Hood River, Oregon, directed by Giselle Kennedy. This black-and-white retro jam paid homage to the working mamas of the craft brew industry. This was Kennedy and her crew's second year in a row to come in first place at OCFF.
Austin's own Britt Coleman won the audience award with his Beastie Boys-influenced music video Beer (R)evolution. The video was shot in several different locations across Austin, including some of Austin's most notorious graffiti walls. The song called for a craft beer revolution against the tyranny of watery domestic beers.
Raymond Lai from Long Beach took second place overall with his kung-fu mini epic, Duel of the Dogfish 2: Positive Contact. Lai's film played on the well-established connection between rap and kung fu, equating Del the Funky Homosapien's Positive Contact to the Dogfish Head brew of the same name. Any Dan the Automator fan would have been sure to get a kick out of this one.
Last but not least came the third-place winner, Joe Dewitt from Pittsburgh and his short Hippie Hip Hop Hipster Hippity Hop. Dewitt's overtly punny piece pitted a hipster, a hippie and a hip-hop star against one another in a downhill hippity-hop race for the ages. Dewitt's film was the most technically impressive, utilizing motion graphics, well-timed edits and sound gags to pump up the comedy.
Soon after the shorts screening ended, the much anticipated one-man reunion of Sam Calagione's craft brew rap act, Pain Relievaz, took stage. It had been nearly five years since the last time Calagione had publicly performed a Pain Relievaz song. After a brief warmup, Calagione was once again spitting hoppy rhymes and taking names.
The night and the fest concluded with a screening of Slim Shady's 8 Mile, begging the question, could there possibly be a more perfect film pairing to cap this hop-filled event?
Cameron Bergeron is an intern at the Austin Film Society.
[Photo credit: Jack Plunkett. Used with permission from Off-Centered Film Festival.]