AFF Announces 2013 Honorees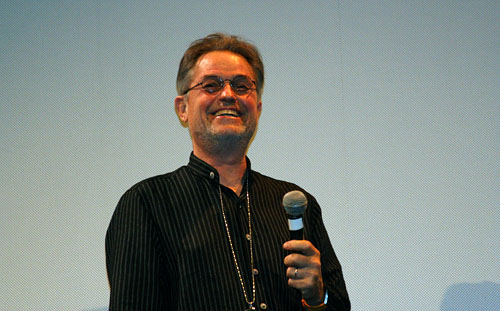 Jonathan Demme, director of such feature films as Rachel Getting Married and Philadelphia, and such documentaries as Jimmy Carter Man from Plains, will receive the top award at the 2013 Austin Film Festival this fall. Demme is being honored with the fest's "Extraordinary Contribution to Filmmaking" Award.
Demme won an Oscar for his direction of The Silence of the Lambs. Recently Demme has done directing work on TV shows such as HBO's Enlightened. His Fear of Falling, based on a screenplay by Wallace Shawn, is currently in post-production. The photo above is from SXSW 2009, when Demme brought the concert documentary Neil Young Trunk Show to Austin.
AFF also announced its "Outstanding Television Writer" for 2013: Vince Gilligan, acclaimed for his creation of and work on the AMC series Breaking Bad. Gilligan also served as executive producer for The X-Files, and wrote screenplays for Hancock and the Texas-shot movie Home Fries. (Does this mean we might see Home Fries at AFF in October?)
A new award is being added to the slate this year, the festival's twentieth anniversary. The "Heart of Film" award will recognize writer/producer Barry Josephson for his work in TV and film. Currently an executive producer on Bones, Josephson has worked on such other TV projects as The Tick and Tales from the Crypt. His film production credits include Enchanted and Life as We Know It.
You can read more about the honorees, as well as the panelists tentativey scheduled for AFF 2013, on Austin Film Festival's announcement page.
[Photo credit: Jonathan Demme at SXSW 2009 by J. Kernion, all rights reserved.]