Not Just Texas: 'Last Call at the Oasis' Highlights International Water Crisis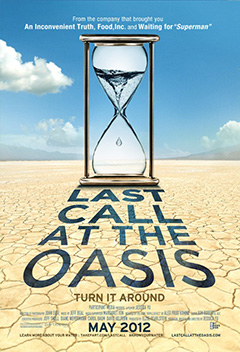 The drought in Texas shows no sign of letting up and the Texas Commission on Environmental Quality reports that approximately 22 percent of active community water systems are on voluntary or mandatory water use restrictions as of April 17, 2013.
But the water crisis is not limited to just Texas -- it is a constant source of concern across the globe. The producers behind An Inconvenient Truth, Food Inc. and Waiting for Superman focus on the global water crisis in the 2012 documentary, Last Call at The Oasis. Written and directed by Academy Award winner Jessica Yu (Breathing Lessons: The Life and Work of Mark O'Brien), Last Call at The Oasis presents evidence about why the global water crisis will be the most critical issue of this century.
The film explores the role of water for our daily existence, as well as those communities across the world that are struggling with the lack of this essential resource. It features statements from activist Erin Brockovich and journalist Alex Prud'homme along with notable experts like climatology scientist Peter Gleick, hydrologist Jay Famiglietti and law and public policy professor Robert Glennon.
For more details about the movie, read Christopher Campbell's review from its 2011 premiere at the Toronto International Film Festival, in which he says it's "necessary viewing for anyone on the planet who drinks water."
Last Call at The Oasis is currently available for viewing online, but you can catch a special screening of this documentary at the Alamo Drafthouse Village on Monday, April 29 at 7 pm. Proceeds from the event will benefit the Texas Water Foundation, a nonprofit organization created for "the purpose of generating a heightened public awareness among all Texans regarding the vital role water plays in our daily lives."
You'll see a familiar name from the local film industry amongst the Texas Water Foundation Board members, which include former Texas senator J. E. "Buster" Brown, former TCEQ Chairmans and Commissioners Kathleen Hartnett White and Buddy Garcia -- Austin Film Society founder and filmmaker Richard Linklater currently serves as a director.
Watch the trailer for Last Call at The Oasis below: