Cine Las Americas 2013 Dispatch: Death and Clouds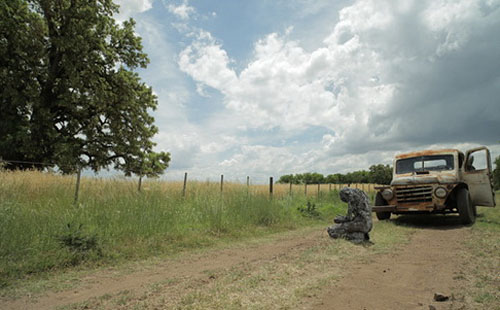 Friday marked my last chance to catch some really great films from Cine Las Americas, although I sadly wished I had gotten a chance to take in more. I mentioned earlier how I tried to check out films from different genres. I decided to take it a step further for my last day to check out two types of movies I don't usually take in: a thriller and a documentary.
My thriller choice was The Second Death, a film about Alba, a cop trying to solve a murder mystery in a small town. The victims are discovered as being "burned from the inside out," found by the police with a rosary in their hands and positioned as if they were praying. When the clues and witness accounts start to incorporate religious undertones, Alba's faith and beliefs are tested (especially since she does not believe in God). The film has a great twist at the end, exposing the truth of the crime and how the local church was tied into it.
Although I am not one for scary films, this was a compelling story that never dropped the ball -- that is, there weren't any plot holes to leave you second guessing. The performances were also spot on, never breaking character or giving out dialogue that brought you back to reality. It's great to see all of the elements of a story such as this stay together all the way until the end. It certainly left me on the edge of my Alamo Village seat!
I ended the night with the documentary Sons of the Clouds. The recent film from acclaimed producer Alvaro Longoria caught my attention because Javier Bardem is also a producer. Although I wasn't quite sure what to expect, I'm glad I got the chance to see it. The film focuses on the community of the Western Sahara, a former Spanish colony torn between Spain and Morocco. The result is that the desert is now home to over 200,000 refugees, people living out of tents and trying to survive because neither country claims them. Bardem and Longoria set out to be a voice for these people, reaching out to members of the United Nations and human-rights activists to see what the future holds for the community.
What struck me most about this was the fact that I was not even aware of the situation. When this point was brought up in the post-film Q&A, Longoria said that he believed that 99% of the world is unaware of this issue because it is a nonviolent fight. The only reason Longoria himself found out about it was because a film of his played at a film festival that the Sahara community hosts. It really got me thinking about how many unpublished issues there are all over the world, many that we will never know about. I respect Longoria for fighting for these people, and using filmmaking as a tool for human rights.
Throughout the festival I spotted several Cine Las Americas jury members, such as Miguel Alvarez and Geoff Marslett, attending the films. It was encouraging to see them at the screenings, supporting the films and filmmakers. It just goes to show how important these stories are, and how many of these films are worth more than just one viewing. Congrats to the entire CLAIFF team for another successful year of moving cinema; I look forward to what the 17th year will bring to Austin.