Cine Las Americas 2013 Dispatch: Evil Willow Meets Delusions of Grandeur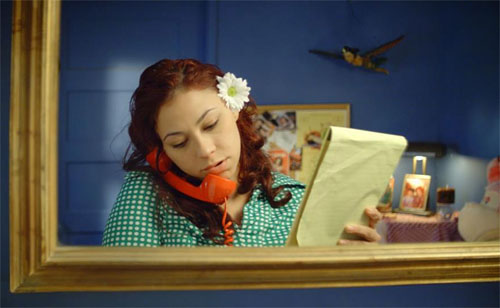 For me, days two and three of Cine Las Americas were spent at Alamo Drafthouse Village, indulging one too many times in items from the wide menu selection (I'm certain I've already gained ten pounds). I tried to make it a point to not only see films from different countries, but from different genres as well. Here's what I got to check out.
Wednesday afternoon gave me I Am a Director, a hilarious comedy about Carlos, a guy trying to make a Hollywood film with no money and no past experience. It reminded me of being in film school and meeting those dummies who thought they were the son or daughter of Spielberg himself, but didn't even know how to turn on a camera. Carlos is a lovable character, but you want so much to just slap him because he is so naively ignorant. Everything was spot on humor-wise though, and I imagine film students will probably laugh the hardest at this movie.
The evening then brought me 3 -- a story of a mother and daughter dealing with the consequences of the man who walked out on them years ago. Ironically, the father/husband, Rodolfo, wants to come back to be a part of their lives again many years later. The two women obviously felt the sting of his leaving and have dealt with it by not caring about what happens to them, living as roommates more so than as a family. Rodolfo cannot see that they hurt and act this way all because of his moving on with his life. There was a sadness to the story I hadn't seen before: the reality of losing trust and how we cope with the remaining scars. A very moving film, to say the least.
Thursday afternoon led me to The Evil Willow, a drama/thriller about a man who is kidnapped but does not realize it due to a concussion. The film was beautifully shot, and director Sebastián Sarquís was in attendance for a Q&A after the screening. The entire Q&A was in Spanish, though, so it was a bit challenging for me to keep up. (Cine Las Americas is certainly making me dust off my Spanish skills!) Although it wasn't a large audience, they were engaged in the film and showed the director their appreciation.
Perhaps my most favorite film of the past two days was Gustavo Ramos and Iris Almaraz's Delusions of Grandeur. The Village was packed Thursday night, the audience giddy with excitement over the movie itself. The story, set in an eye-popping 1990s San Francisco, follows Lulu -- a young girl trying to learn to be an adult away from her family. In a world full of gender-bending roles, sexual exploration and drugs, she learns to accept her past in order to find love and, most importantly, self acceptance.
Almaraz said she was influenced by Woody Allen's film Manhattan, and that she wanted to make her own, colorful version using San Francisco as the setting (especially since she went to college there). Ramos said he wanted the female characters to embody the traits of the women he grew up around: filled with a sense of self, compassion and humor. The film does just that, giving us moments of awkwardness, laughter, and some incredibly relatable situations. Most of all, it was empowering to see a Latina female director. Female directors are a rarity, but Latina female filmmakers are almost impossible to find. Keep up the good work, Iris -- I know I'll be following your work.