AFS Essential Cinema: New Janus Films Series, New Digs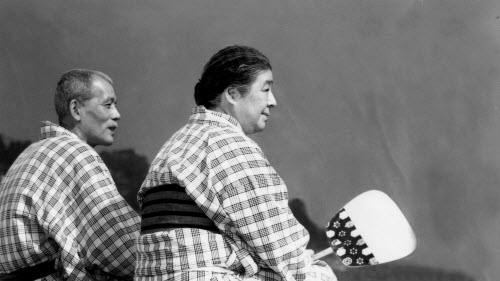 The Austin Film Society kicks off a new Essential Cinema series tonight ... and at a venue that's relatively new to them, but which I suspect will become familiar to many of us this year: the Marchesa Hall and Theatre.
"Classic 35mm Treasures from the Janus Films Archive" is a seven-film weekly series including a variety of European and Japanese movies from the 1960s, many of which you may have seen or at least heard of before. Many Janus Films are now Criterion Collection disks -- but this is your chance to see 35mm prints of Zazie dans le Metro, The Wages of Fear, Tokyo Story (pictured above) and others.
It's a great way to inaugurate regular AFS programming at the Marchesa, which will officially become the home for Essential Cinema and other series and AFS events in May. "AFS at the Marchesa" seats 278 and will feature repertory, independent and arthouse fare. The theater is still in need of upgrades, however, and AFS plans to launch a fundraising campaign next month to get the venue in shape. We'll have all the details as they become available.
Here's the lineup for the Janus Films series. All films screen on Tuesday nights at 7 pm at the Marchesa except for The Sword of Doom, which is a Wednesday night screening. Get your tickets online ahead of time in case they sell out (for these movies, not only possible but probable).
WR: Mysteries of the Organism (1971)
Tuesday 4/16 [tickets]
I haven't seen this Yugoslavian/West German film, and I don't think I can top the AFS description: "Freud, Marx, Stalinist sexual repression, Wilhelm Reich's theories of Orgone energy, a Russian skater, young Yugoslavian women in love ... all combine in a visually exciting celebration of sexual freedom."
Zazie dans le metro (1960)
Tuesday 4/23 [tickets]
This Louis Malle comedy follows the adventures of the title character, a pre-teen girl visiting Paris who escapes her relatives to explore on her own.
The Sword of Doom (Dai-bosatsu tôge, 1966)
Wednesday 5/1 [tickets]
A sociopathic samurai's scruples or remorse makes him the target of vengeful assassins. The cast includes Toshiro Mifune, as the mentor/instructor of one of those assassins.
The Wages of Fear (1953)
Tuesday 5/7 [tickets]
One of the best-known films in the series, this French film from Henri-George Clouzot is about four men driving a truck full of nitroglycerin across South American jungle terrain. I can't wait to see this in a theater with an audience.
Red Desert (1964)
Tuesday 5/14 [tickets]
Monica Vitti portrays a housewife struggling with mental illness and ennui, while Richard Harris (!) plays an engineer who tries to tempt her into an affair. This was Michaelangelo Antonioni's first movie in color.
Tokyo Story (Tokyo monogatari, 1953)
Tuesday 5/21 [tickets]
All film-school students are required to watch a film by Yasujirô Ozu to learn about the tatami shots and how they've influenced other filmmakers. But I dearly loved this Japanese film about an elderly couple whose children see them as a nuisance and a burden. Ozu was inspired by Leo McCarey's 1937 movie Make Way for Tomorrow, which I'd like to see AFS screen this year as well (please).
The Makioka Sisters (Sasami-yuki, 1983)
Tuesday 5/28 [tickets]
AFS has saved the most contemporary of the Janus films for last. It's about four sisters from an upper-class in pre-WWII Kyoto, balancing tradition with increasingly modern ways.