'The XXXX Saga' Production Diary: Week Five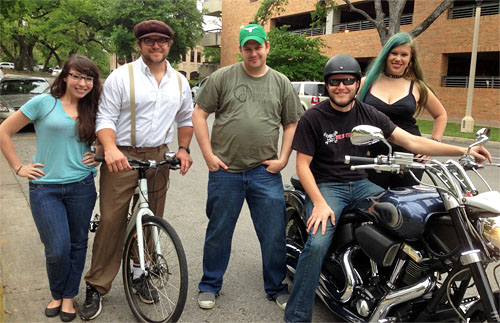 Austin filmmaker James Christopher is directing Twitchy Dolphin Flix's new mockumentary-style features The XXXX Saga: Rise of the Beaver Slayer and The Porn Movie Massacre (no, they're not pornos). Check Slackerwood for his updates as the production continues.
Being an indie filmmaker can -- to put it nicely -- test you. It can throw wrenches into your plans, disrupt your routine. As they say, "Adversity doesn't build character, it reveals it."
The crew behind the Quad X Saga has weathered their share of issues: lost locations, productions issues, revolving cast members. When I had to step in as a police detective due to a casting issue, the rest of the cast and crew rallied like a team and so far it's gone off without a hitch.
On this weekend, we rolled into three long days. I mean long. A parade of actors flew in from out of town to get some screen time. Mike Donis arrived from Toronto to play Detective Bill England, and we saw the return of Daniel Cano from Houston as documentary filmmaker Christopher Shearer. My old Army buddy Eric Adair rolled in from Maryland to play maniacal porn director Marcus and brought along Rebecca Meyer to join in the fun.
All these names joining the cast helped us put together a weekend that saw some pretty intense kill scenes as we near the end of the Porn Movie Massacre portion of the production. Set in Leander at the "Home Cuming" set for the movie within our movie, porn stars start dropping dead at an alarming rate. This weekend saw a body count of seven with four actors playing the killer.
Aaron Gaudin, our f/x coordinator, really seems to have an eye ... and an ear ... for this stuff. We threw some pretty ridiculous scenarios at him, though the kill of the weekend might have been the reference to Peeping Tom. A special shout out to Elena Weinberg for coordinating the fight between our killer and Mallory Larson's character Vageana. So much fun.
Sunday had one of the funnier moments of the movie. It features Texas Renegade members Andy Bertelsen and Tyson Carver, a kick-ass motorcycle and and a tandem bike. I might just post that clip to the web next week. After a shorter-ish day on Sunday, we finished the weekend with a production staff screening of Jaws. Thanks to my lovely wife for a wonderful dinner.
From here, we near the end. It's always weird to be in the foxhole and then see that the time is flying by. It'll be in the can ... well ... on harddrives before we know it and some of the memory of the production will fade as we prepare for new flicks. We have a week break from the shoot as Twitchy heads to the Bare Bones Film Festival in Muskogee. Twitchy has two films we produced and I have five films that I wrote involved in the fest.
After that, we come back to only five days left. But one of the those days has Marc Wasserman in it. We might not survive.