Double Vision: Two Takes on James Benning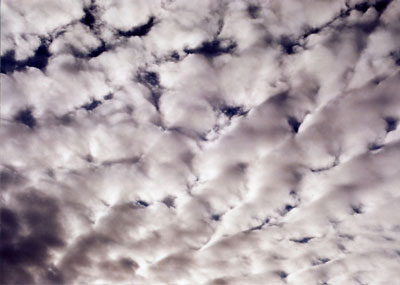 On April 6-8, Austin Film Society's Artistic Director Richard Linklater curated and presented a series of recent films by the groundbreaking avant-garde filmmaker James Benning. This showcase of Benning's work explored many different American landscapes (including skies, lakes, roads and the woods) through various mediums, including two 16mm presentations at Alamo Drafthouse Ritz. Austin Film Society Interns Hannah Jordan and Shane Henderson attended the events and covered these once-in-a-lifetime experiences.
Ten Skies: Hannah Jordan
It's my first James Benning film experience and I walk into the theater ten minutes late. It's quiet enough to hear a pin drop with all eyes pointed straight at the screen, so I take the nearest available seat on the front row. I hate sitting on the front row, but I also hate people like me who show up to movies late, so I'll take what I can get.
I settle into the eerie calm and take in the scenery of Ten Skies, which was precisely 102 minutes of skyscapes. That's all, just sky. Dark skies, light skies, rainy skies, blue skies -- all laid out in 20-minute blocks with little to no audio. I sneak a quick peek at the audience behind me, and become acutely aware of their pristine movie manners. There are no chairs rustling. There are no jaws smacking. Everyone is sitting upright as a scholar; transformed into dutiful schoolchildren eager to see the hypnotic journey Benning is taking us on. The catch is, he doesn't want to take us anywhere. He just wants us to sit still.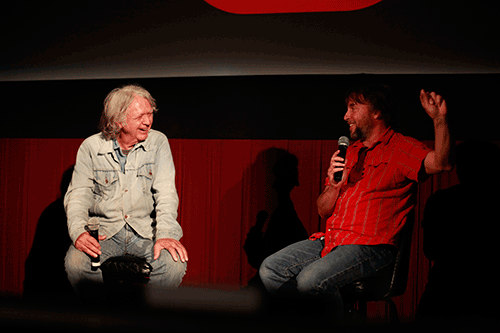 "It's better than meditation ... better than church."
--Richard Linklater
James Benning has been making film longer than I've been alive, dating back to the early 1970s, but he's been living in his head his entire life. His style of filmmaking -- rejecting traditional plot-driven methods of filming and focusing on capturing the "mood of the moment" -- is something he renders entirely his own. In Ten Skies, it isn't enough for Benning to simply show you the images. He wants to lend you his eyes.
"There's a proper way to watch these things, and an improper way," says Benning. "It's up to the audience."
Sound like a lot of pressure? Seem boring? Feel like you just don't get it? That's okay. This film is designed to weed you out of the crowd within the first shot, which happens to be about 17 minutes long.
After the first half hour, the film turns into a game of patience vs. artistry. The crowd has loosened up. People have ordered food and taken bathroom breaks. I hear the resounding crunch of potato chips behind me. Seat backs lean into comfortable, obtuse angles and eyes begin to droop. A few people leave.
This is where the separation becomes apparent. There are those who get it, and those who don't. It becomes a matter of letting go and embracing the silence, embracing the static atmosphere and sinking into the meditative time warp. To get it, you have to have, for lack of a better phrase, lost it. Keeping track of factors like the passing of time, location and character development will get you nowhere in a Benning film. You must embrace the void, as you would during time spent in a sensory-deprivation chamber. The man has basically condensed months of cloud gazing into 102 minutes of Zen-like hypnosis.
It's beautiful. It's meditative. It's self-indulgent. It's a James Benning film, and it's only as pretentious as you are.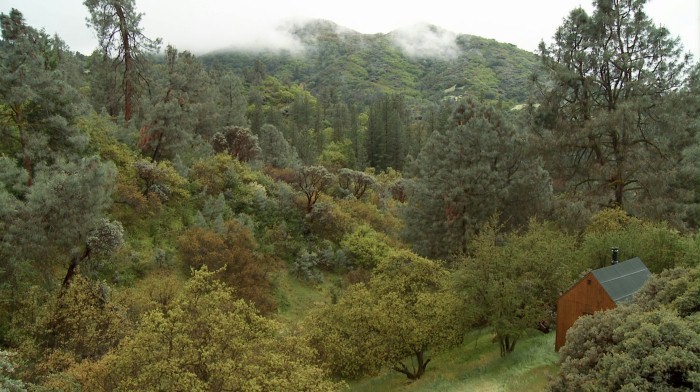 Stemple Pass: Shane Henderson
Austin Film Society's excellent James Benning series came to a close on Monday night with a screening of his most recent film, Stemple Pass, and a final Q&A led by Richard Linklater.
Benning is an American avant-garde filmmaker who has made over 50 films since 1970. His work often focuses on the American landscape and he frequently uses very long static shots to experiment with the audience experience of cinematic time.
Stemple Pass follows in the same stylistic vein as Benning's other films, made up entirely of four half-hour static shots of a cabin in the mountains. However, unlike his others, the film is thematically focused on the Unabomber, Ted Kaczynski. The cabin, built on Benning's property, is actually a reconstruction of the cabin in which Kaczynski lived in Montana, and to complement these images, Benning reads select passages from Kaczynski's journals. Kaczynski spent over 20 years living in a remote cabin in Montana from which he organized his nationwide bombing campaign that killed three and injured 23.
The film seemed to really resonate with the audience and it led into a truly fascinating discussion with Benning in which he spoke about the film, his contact with Ted Kaczynski and his feelings on nature and the state of technological advance in society today. Benning has spent more time studying Kaczynski than most. In the Q&A he spoke about reading all 25 of Kaczynski's journals, spending three weeks deciphering his numerical codes and even writing letters back and forth with the man through a mutual friend.
In both Stemple Pass and the conversation with Linklater, Benning attempted to provide some insight into the mind of Kaczynski. It's apparent that Benning feels strongly about the negative side of human technological advance.
"I think he [Kaczynski] did awful things, but he is warning us against something that could become very awful." said Benning.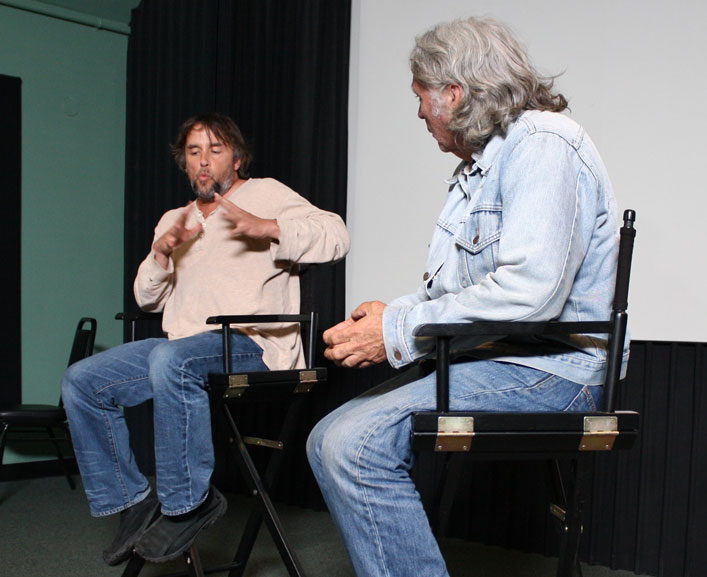 Along with their interest in Benning's thoughts on Kaczynski, the audience was also very interested in the format of the film and the stylistic decisions Benning had made. Benning spoke at length about the choice to use such long takes and his desire for the audience to have to work hard when viewing his film. He said he wanted the audience to really watch and notice the subtle changes, like the changes in light or the shifts in weather.
For many at the screening, Stemple Pass was an excellent introduction to Benning's work and it certainly served as a fitting conclusion to the series.
Hannah Jordan and Shane Henderson are interns at the Austin Film Society.
[Photo credits: Richard Linklater and James Benning at the Alamo Ritz, courtesy of The Bear Media, Edward Crouse; James Benning and Richard Linklater at the AFS Screening Room, courtesy of Chale Nafus.]