Get Ready for the Big Gig: Google Fiber in Austin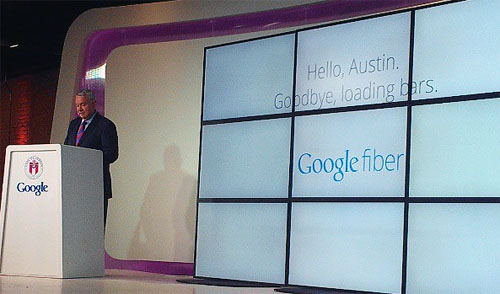 So have you heard that Google Fiber is coming to Austin?
Of course you have -- you're a film fan. Whether you create, study or just watch movies, you engage in the one art and entertainment form that chews through network bandwidth and hungers for more.
On Tuesday morning, Google and the City of Austin held a joint event confirming the worst-kept secret in city history: Google will build a gigabit speed, fiber-based Internet access network in Austin. The company will be the fourth entrant in the Austin residential wireline broadband market, joining Time Warner Cable, AT&T and Grande Communications.
Here's what we know so far: The service offerings will be similar to what Google does in Kansas City, their first fiber market. That includes a gigabit broadband service ($70/mo), gigabit broadband with high-def TV channels ($120/mo) and a megabit broadband service (free for 7 years, with $300 install fee). Note: Those are Kansas City prices. Google has stated multiple times the Austin pricing is uncertain -- except for the free service, which they assure us will indeed be free.
We don't know exactly which locations around town are being considered, but we do know the agreements were with the City of Austin and Austin Energy. I wouldn't be surprised if portions outside the city but within the so-called "extra-territorial jurisdiction" (ETJ) of the city that are served by Austin Energy are considered. If you don't get a monthly bill from Austin Energy, however, I think you should consider yourself sidelined, at least for now.
Google plans to light up the first neighborhoods in mid-2014. The company will use a "rally" process to identify where the network will go. That will look something like this: Google will divide the city up into "fiberhoods." In KC, a fiberhood includes between 250 and 1,500 households. Fiberhood households can individually pre-register for service. In KC, pre-registration requires a $10 deposit. Fiberhoods that meet registration thresholds will qualify to receive the network. In KC, 90 percent of eligible fiberhoods have qualified.
Google has set up a web page that includes more information and a sign-up form to request notification when the rally process is announced: https://fiber.google.com/cities/austin/
If you have more questions, the Austin American-Statesman has a helpful FAQ about Google Fiber in Austin.
I'm sure you've heard the details about gigabit broadband: It's a hundred times faster than typical home broadband. A high-def movie download that can take an hour now, happens in under a minute. Unmetered and uncapped.
Filmmakers should note a little-mentioned but hugely significant point: It will be symmetric broadband. Current residential broadband is asymmetric, with upload speeds much slower than download speeds. Upload speeds with gigabit broadband would be on the order of a thousand times faster than your typical residential broadband connection today. This could be the most signficant thing to happen to the film creation process since the availability of video-editing software for consumer computers.
Rebecca Campbell, Executive Director of Austin Film Society, agrees. "Filmmaking is all about teamwork and collaboration, and a fiber network connection with improved upstream performance would help enable new forms of collaboration," she said. "A high-bandwidth connection would also facilitate independently employed editors and visual effects people being able to telecommute around the world."
If you are among those who don't feel the need for gigabit broadband right now -- or who don't enjoy the cash flow to support a $70/mo bill -- fear not. The free service (after installation fee) will provide performance on the order of current "light broadband" products. In KC you can pay off the install fee over a year, and you can upgrade to gigabit in the future.
If you are happy with your current broadband service (hey, it could happen), you're about to get even happier. It's well documented that when broadband competition increases, prices go down and performance goes up. In fact, AT&T followed the Google announcement with one of their own, saying they too will offer a fiber broadband service in Austin.
Gigabit broadband is uncharted territory. Google says they picked Austin because of the outpouring of support and creativity from the community. They hope that once unconstrained by Internet speed, we will pioneer wonderful things, like new telemedicine technologies. Or becoming the cat video capital of the world.
Slackerwood contributor and webmaster Chip Rosenthal is co-founder of Big Gig Austin, the community initiative created in 2010 to support Google Fiber in Austin. He also serves on the City of Austin Community Technology and Telecommunications Commission. Views expressed here are his own.
[Photo credit: Mayor Lee Leffingwell announces Google Fiber in Austin, courtesy of the City of Austin.]