Dallas IFF Review: Cry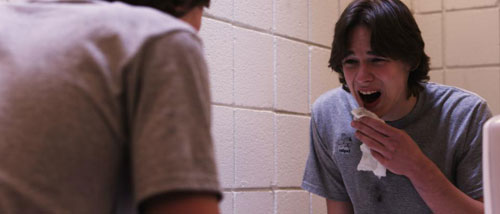 Dallas writer/filmmaker Clay Luther made his feature directorial debut at this year's Dallas International Film Festival (DIFF) with Cry, a drama that explores several timely topics including bullying and homophobia. Luther effectively portrays the complexity of his main characters and avoids the formulaic and simplistic Hollywood ending.
Cry focuses on two neighbors on the opposite ends of life -- Cable (Bill Flynn) is a despondent widower who has lost the will to live and is estranged from his daughter, and Carson (Skyy Moore) is a high-school student who is bullied by fellow basketball player Micah (Erick Lopez).
Carson may not have experienced life, but he has suffered the death of his mother and lives with his openly homosexual uncle, Jeremy (Del Shores). Although Carson has his girlfriend Grace (Cherami Leigh), he's emotionally troubled from the almost daily beatings he receives from Micah. It is inferred that Micah and Carson had been best friends, but a significant event caused an estrangement. As Carson struggles with his personal drama, a tragic event connects him to Cable, who also finds his life a challenge to live. Resolution does not come easy for either of them, but through their relationship they find the will to take the necessary steps towards contentment.
Cry is well cast with superb performances from leads Flynn and Moore. Flynn's portrayal of the pain and anguish of a man who has not come to terms with the death of his wife hits the mark, as does the bittersweet and often humorous revelations of his deceased wife's imperfections. Moore fully grasps the emotional depth of a high schooler on the brink of adulthood, dealing with his own troubles. Although Shores' character is overexaggerated at times, I attribute that to the writing rather than his acting. An explosive scene between Uncle Jeremy and Carson allows Shores to truly demonstrate his ability to embrace a range of emotions.
A minor flaw I noticed quite often in Cry was the direction of featured extras who seemed unfamiliar with how to act on camera, especially in high-school scenes where the camera lingered on characters in the background. Overall, the cinematography and design of Cry was well done, and I especially liked the use of Cable's picture window to frame several scenes.
Cry may come across to some viewers as a bit long due to its pacing, but this approach builds the story's complexity. The writing is well balanced, with enough levity to lift viewers up from the often depressing topics addressed in this film. Cry addresses sensitive but important subject matter and is well worth seeing, especially for Flynn and Moore.
The movie screens once more at Dallas IFF Wednesday at 7 pm at The Magnolia.
Austin/Texas connections: Most of the cast and crew reside in Dallas including writer/director Clay Luther, cinematographer James Burgess, lead actors Bill Flynn and Skyy Moore and supporting actress Cherami Kuehn. Cry was filmed in Dallas, including at the Episcopal School of Dallas.