Dallas IFF Review: This Is Where We Live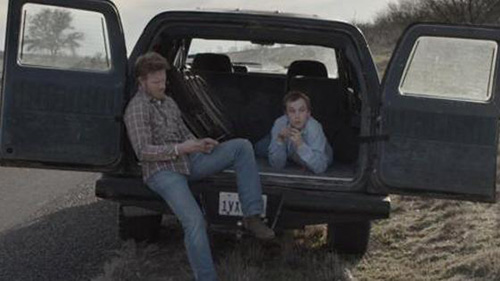 Homeland star and San Angelo native Marc Menchaca and Josh Barrett teamed up for their writing and directorial debut, This Is Where We Live, an intimate look at a family wrought with physical and emotional troubles. The duo were in attendance for the movie's north Texas premiere at the Dallas International Film Festival last week. During the post-screening Q&A, the filmmakers revealed that although the story is fictional, one of the main characters was inspired by Menchaca's close friend Thomas, who has cerebral palsy.
This Is Where We Live brings viewers into a small-town family's home, where every member of the Sutton family suffers, Diane (C.K. McFarland) ignores her own health issues to meet the demands of her full-time job as a stocker at the local supermarket and to take care of her son August (Tobias Segal), who suffers from cerebral palsy. Her husband Bob (Ron Hayden) is in the early stages of Alzheimer's disease and daughter Lainey (Frances Shaw) lazes about the house -- both of them distant from the rest of the family.
The physical demands of transferring August from the car and into and about the house is exhausting for Diane, so she hires local handyman Noah (Menchaca) to build a wheelchair ramp for the Suttons' front porch. August is clearly engaged by Noah, who talks to him like anybody else, and so Diane offers Noah work as August's caregiver so she can pick up extra shifts to meet their financial needs. The friendship reveals that Noah needs August's help as well to face his own demons and heal from a tragic event in his past.
The entire cast delivers performances so genuine that combined with the handheld cinematography, This Is Where We Live has a documentary feel to it. Audiences may feel empathetic towards Diane at the beginning. However, as the story progresses, actress McFarland effectively delivers lethal punches of Diane's darker and less selfless side -- reminding us that she is human. Veteran actor Barry Corbin has a supporting role as Noah's uncle, and he as well is a natural when it comes to his small-town character of the family sage. Hayden and Shaw also hit the mark for their respective characters, both seen wandering aimlessly whether physically or emotionally.
Menchaca's performance addresses the complexity of his character, but it's Segal who hits it out of the park with his outstanding role as August. The filmmakers of This Is Where We Live brought in Christine Bruno of Inclusion in the Arts to serve as a disability consultant to ensure their portrayal of disability in the movie was accurate. This approach is clearly demonstrated from the authenticity of Segal's portrayal. I was wholly convinced that had some sort of disability from his outstanding performance, and was stunned to learn during the Q&A that this is not the case. He spent several weeks learning to tense his body up and how to communicate with his eyes and facial features.
I'm not wholly convinced of the filmmakers' insistence in using handheld cameras for the entire film, as it was often unsettling. But overall the cinematography stunningly portrays small-town life in the Texas Hill Country. The set design also lends authenticity, but that shouldn't be surprising as Menchaca used the small house of his high-school football coach as the Suttons' family home.
The bleakness of This Is Where We Live should not keep folks from watching this powerfully intimate and realistic portrait of a family trying to get by and meet life's challenges.
Austin/Texas connections: This Is Where We Live was filmed in Llano and Pontonoc, and director of photography Ryan Booth resides in Texas. Actress McFarland is the founder of Alleywood Studios in Austin and actor Hayden is a guest lecturer at both the Drama and RTF departments of Southwest Texas State and The University of Texas at Austin. Corbin resides near Fort Worth.