Dallas IFF 2013: Opening Night on the Pink Carpet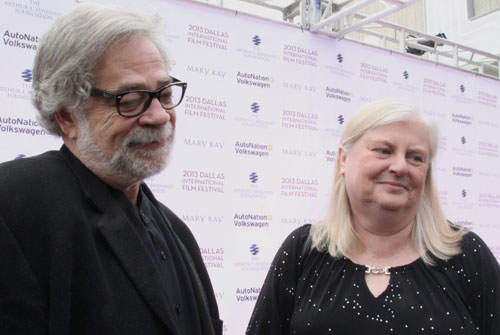 Yes you read that right -- in honor of the 50th anniversary of contributing sponsor Mary Kay, the traditional red carpet at this year's Dallas International Film Festival (DIFF) opening night was replaced with Mary Kay's favored pink. The evening featured a public service announcement-style video produced by the Dallas-based company to promote their "Don't Look Away" campaign, which focuses on ending domestic violence.
In addition to the film stars and filmmakers to walk the carpet, which you can see after the jump, several festival dignitaries were also in attendance including Dallas Film Society (DFS) CEO Lee Papert and DFS board chair Lynn McBee. Emmy nominee and Dallas television series producer Ken Topolsky was accompanied by Janis Burklund, Director of the Dallas Film Commission (seen above), and spoke about the receptiveness of the Dallas residents to film and television production in their community.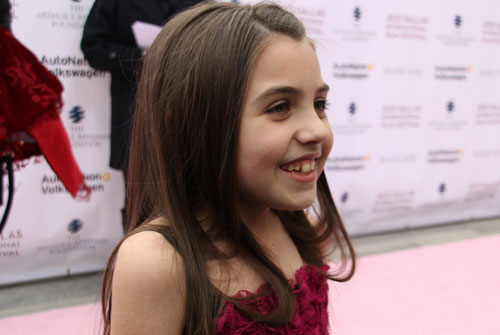 Fort Worth actress Gracie Whitton graced the pink carpet, engaging the press with her charming smile and relaxed rapport as she spoke about her role in the upcoming horror spoof Scary Movie 5.
Bill Flynn, who now resides in the Dallas/Fort Worth metroplex stars in the drama Cry, which premiered Thursday night at DIFF, and was joined by Cry supporting actor Del Shores, as seen above. I've spoken to Flynn several times throughout the festival and have found him to be delightfully engaging and insightful. His performance as a widower in Cry is heart-wrenching and painful, and well worth watching.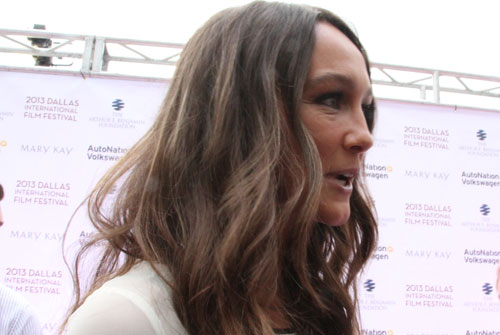 Actress Sharni Vinson, seen above, accompanied her boyfriend Kellan Lutz. His film Java Heat also premiered at DIFF's opening night. We spoke briefly about her work with director Adam Wingard, writer Simon Barrett and actor AJ Bowen on You're Next, which premiered in Austin at Fantastic Fest in 2012 and also screened at SXSW 2013.