SXSW Review: Continental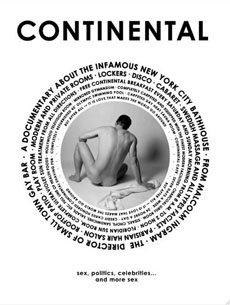 The documentary Continental faces a tough challenge: Very little film footage or still photos exist for the legendary NYC bathhouse in its heyday. It's understandable -- this was not a place where many people wanted their pictures taken. But it means Continental has to drum up visual interest in other ways.
The movie takes us along on a breezy historical tour of the Continental Baths, one of the most well known and innovative bathhouses in New York in its prime. Steve Ostrow invested in the facility when it was a dark, dank warren of gay sex, and transformed it into a sophisticated gathering place and much cleaner, safer warren of gay sex. Eventually the Continental even drew a straight nightclub crowd for its concerts -- this is the place where Bette Midler launched her career.
Midler isn't one of the interview subjects -- she's represented only by still photos -- but many of the Continental's former employees and regulars happily recount tales of their time there. Interviews with Ostrow are the backbone of Continental, and in fact at times the story is not the history of the bathhouse as much as it is the history of the man who made it great, his work with the gay community, and his lifelong ambition to be an opera singer. He's such a magnetic interview subject that it's understandably why filmmaker Malcolm Ingram would focus on him.
To keep the documentary from being nothing but talking heads, Continental includes many contemporary shots of the hotel that used to be the home for the Continental, as well as the neighborhood surrounding it. It gets a little visually dull after awhile, but then I'm not sure what else Ingram could have done, unless he wanted to totally re-create the premises, a la Errol Morris? Which would have made for a very different movie. The rare footage and stills that do appear onscreen are fascinating -- I wish there were more.
As it is, Continental is practically family friendly. Its theme is upbeat, almost sentimental: "Ah, the golden days before AIDS invaded the gay community." The film's almost glossy in its approach, without a lot of depth but chock-full of amusing anecdotes. It dwells a little too long on a long sequence about celebrities visiting the baths, and begins to feel like name dropping. Fortunately, the story shifts before it becomes tedious.
With Continental, filmmaker Ingram (Small Town Gay Bar, Bear Nation) succeeds again in sharing a slice of history with us about the gay community, in a way that nearly anyone might enjoy. It's also a charming bio about a charming man, Steve Ostrow, and his colorful life. The end scenes with Ostrow are especially moving.
If you missed Continental at SXSW, keep an eye on the film's website about upcoming screenings, which include Hot Docs in Toronto later this month.