'The XXXX Saga' Production Diary: Week Three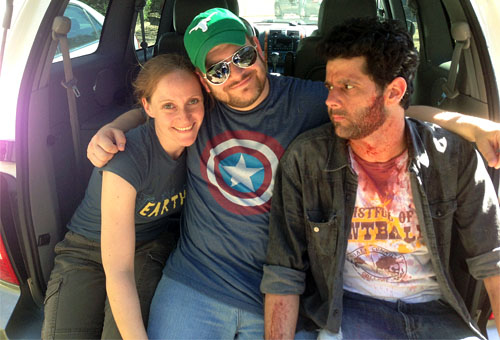 Austin filmmaker James Christopher is directing Twitchy Dolphin Flix's new mockumentary-style features The XXXX Saga: Rise of the Beaver Slayer and The Porn Movie Massacre (no, they're not pornos). Check Slackerwood for his updates as the production continues.
"Week Three: AKA You See Every Time He Gets a ... He Passes Out"
Yep, that's what we were doing this weekend! We were seven days into the movie now and the core of the story was starting to really be shaped. Can't say enough about all the hard work the actors have done getting this thing going. We're seeing some of the most fully formed characters from our actors that we've ever seen. For this film to be successful -- and by the reaction of the crew, it's well on its way to be that -- we need the cast to bring it. We need them to be these characters and be free to explore the scene so that it will feel more like a "doc" and not like a fictional narrative.
We started out on a Thursday by doing a bit of a send-up to one of my favorite horror flicks, Scream. Margaret Ann Garza and newcomer Trey Stapleton got to set the tone for the Quad-X sequel by recreating a portion of the Barrymore-Ghostface scene. For the slasher comedy to work, it needs to combine laughs, sexiness and over-the-top blood stuff. Check. Always fun to have Margaret on set. I could tell she was miserable at times. Being tackled and covered in Karo while in your undies will do that to you. But it was fun for another reason: Sacha Ryder was back on set. YAY!
A later start greeted us on Friday ... along with a reminder of why we didn't shoot these films in July. A skeleton crew of myself, Chris Copple, Lauren Shelton and Aaron Gaudin descended into the woods to shoot the scenes where our intrepid writers try to hide the body of one of their comrades. Ben Jabe and Sarah England killed it. Watching them was so much fun because they are gifted at improv and they just ran with the situation. Despite it being hot and Twitchy producer Lauren Shelton getting a five-degree burn on her arm! Ouch.
Never to be outdone or outworked, we rolled right from shooting to sponsoring the Kinetic Entertainment's SXSW showcase to support our boys Texas Renegade. A long night pushed us into a long shooting day: 13 pages. But it was the day where we had most of the cast on set at once and a day where we really started to see them interact with each other. It all just worked. For 13 hours the crew was on set and we had cast running in and out of the location all day.
We learned some things about our fun band of adult filmmakers that we didn't really know from the script. We learned that newcomer Mary Cate's grandmother told her that "When she hits bottom, she better shake her bottom." Mallory Larson's Vageana (native of the Russian province of Cockovia) prefers her sheep woolly and her own body shorn. And sadly, according to Sugar Bumps (Derek Babb), "we're plumb out of plums." It was fun for a lot of reasons. Beaver Slayer's junk is so big that when he gets aroused, he passes out for a a bit. And Jimmy Bones loves Daisy. But Serenity's sister doesn't really like her so much. It was neat to have Elena playing two roles in one scene and a lot of fun to see Ariane Powell trying to "save" her porn star friends.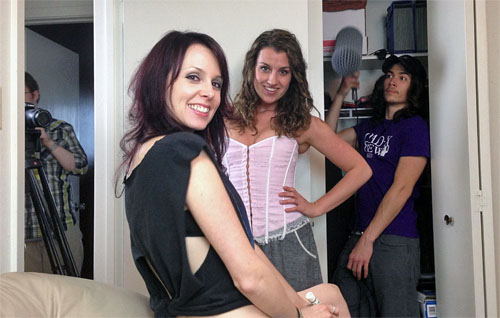 After we wrapped, we were off to my birthday deal. We drank and closed down two bars. It was epic. My lovely wife made an incredible spice cake that we shared with the crew. Twitchy star Marc Asserman had shots sent over from California. I was touched beyond belief. And then I woke up. On my bathroom floor. I turned 37. My Kevin Smith year. (Get it?) I think it's going to be a watershed year for me, Twitchy and all of our cast and crew. Nathan Bybee (our CEO) sent out a wonderful note about how far we're coming in this new breed of independent cinema. It's nice to get some perspective.
[Photo credit: All photos courtesy of Twitchy Dolphin Flix.]