SXSW 2013: 'Sequin Raze' Filmmaker and Stars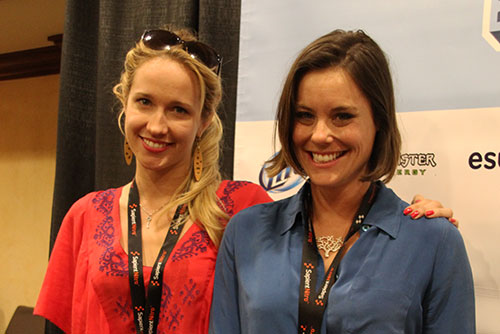 There's never a short supply of well known actors at SXSW Film Festival promoting their feature-length movies, but it's not often that you'll find stars representing short films. However, this year one short film stood out for its female-driven story supported by strong performances from familiar faces Anna Camp and Ashley Williams -- Sequin Raze, directed by former reality television producer and writer/director Sarah Gertrude Shapiro. The film won an Honorable Mention jury award for narrative shorts at SXSW.
Sequin Raze takes viewers behind the scene of a hit reality TV show as jilted contestant Rebecca (Camp) attempts to leave with her dignity while battling producer Rebecca Goldberg (Williams), who must get the "money shot" for ratings. The pair engage in a psychological battle from which only one woman can emerge victorious -- but at what price? This riveting film made such an impact on me that I'll never look at reality television in the same way. I spoke with stars Camp and Williams as well as writer/director Shapiro at SXSW earlier this month about Sequin Raze.
Slackerwood (to Shapiro): What can you tell us about the background and realization for Sequin Raze?
Sarah Gertrude Shapiro: Legally I can't be super-specific about what the inspiration was, but it was inspired by a moment in my life. I did work in reality TV, so there's obviously those parts of my life informed it a lot. I think it was a really poignant moment that kind of folded into the layers of all that and encapsulated all the struggles that I had during that time, and a lot of specific scars that I'm left with and I still struggle with based on that experience. It was more than a specific incident that I built off. It was all of these themes, ideas and feelings that I deal with in all of my work. It just became the perfect place to explore them.
I think that reality TV is such a big part of our vernacular and everybody has a reference for it. That's what was so amazing about making this short -- we only had to put in one shot and everybody knew where we were. It was that one set-up and I didn't even have to explain it. The idea of women destroying other women and also what the objective gaze of the camera does to our views of ourselves and each other is very important to me. It was just a good place to explore.
How did you get Frances Conroy on board?
I'm a huge fan of hers from Six Feet Under. It was after Ashley and Anna had signed on, and also because it was through the AFI Directing Workshop for Women -- there was a little stamp of approval on it and it was legitimized in a way. She just loved the script.
(To Williams and Camp) How did you get involved in this project?
Ashley Williams: Sarah just offered me the role, which isn't something that happens very often to me, so I immediately read and loved the script and was drawn to it for various reasons. I excitedly read it and happened to love the script and was immediately drawn to it.
Anna Camp: I received an email from Sarah, saying that she hoped that she wasn't scaring me that she was a stalker. I contacted my manager and saw that Ashley and Frances were attached and thought this was really cool.
Then I read it and loved that it wasn't making fun of The Bachelor type show and was really getting into the psychological aspects of the show, and that the women were truthful characters and fully realized people. I got excited about playing the character Jessica.
Tell us about the motivation to play these characters.
Camp: For Jessica, a lot of little things about her backstory were referenced in the film that I really had to build on. In the first rehearsals, we would sit around the table and talk about why Jessica was there, what's her family life like. She doesn't want to go back home, she comes from a place where she's the breadwinner of her family. She equates success with getting married and getting a job, where she can take care of her mother who is sick at home. Proving to herself that she can be this perfect woman and perfect wife – there's a lot of that in me as a person that I can identify with. Creating a fully realized backstory helps me create a fully realized character.
(To Williams) Your character Rebecca has a very dark side, what was that like for you to play and what were your references for this character?
Williams: That's what really moved me to the character -- that it was very different from most of the characters that I play, who are pretty apple-pie vanilla, safe-for-TV characters. This character was so interesting to watch, the compulsive nature of somebody trapped in a job that she hates, doing something that she doesn't believe in and yet she doesn't stop doing it. It was fascinating for me, and really fun to play.
Camp: You had a great reference for this character -- the writer and director!
Williams: I was embodying our director, so it was very cool on set to have her as a resource and to be able to pick her brain about what that life was like. Fortunately before we started shooting as well, I was able to spend a lot of time with her. Just to ask her about the psychology of being in that job was very helpful.
How did your roles in this film change your perception of reality television shows?
Camp: I was unaware of the fact that these contestants had people talking with them and developing a relationship with them. Being in their rooms alone and asking them questions and learning about them. I had no idea that there was someone who was so close to them and could manipulate them.
Williams: These two characters had become really good friends over the course of the show. I think for me the thing that was most surprising was that my character Rebecca lies to Jessica and says, "He's going to choose you, you're the one." They had a whole conversation about where they were going to go on their honeymoon, what they were going to do. That just makes the moment when she gets rejected that much more potent. The sliminess of that was striking to me.
Camp: It's like you are really messing with someone's life and future, and you are lying to them. How do you sleep at night, in order to get a reaction on TV and to be known as the closer? How much do you have to sell your soul to get that -- is it worth it? The movie poses that question.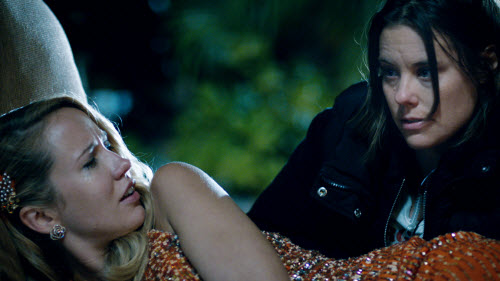 (To Williams and Camp): What do you want the audience to take away from Sequin Raze?
Williams: I think that any time holding the mirror up -- sort of like Shakespeare's goal of acting and theatre -- if people can walk away with more of an awareness that what they are watching on TV is a theatrical show. It is a story being told to you, you are not watching real life. I think that is a really important distinction. If three people walk away from seeing this short film and having a new outlook on reality shows? It's not a documentary, it's a TV show for your entertainment at any cost.
Camp: It's also that these are real people, living real lives. The course of their lives will be changed because of this. If they are made to look crazy, what is it like when they leave the show and they go back to their real world? Can they keep their jobs or will they get fired? These are real people with real lives -- it's a really twisted world.
My show is about the people who live and work behind the camera.
Slackerwood (to Shapiro): Sequin Raze is a very emotionally focused film, and not based on making fun of the genre.
Shapiro: It was important to me that this definitely wasn't a spoof, I didn't want to lambast them, and I didn't want to make the character that was sort of me to be a hero and then the demon. I wanted to do something relateable that was for anybody who has ever had a job. If you have to put a roof over your head, your line of what you'll do to keep your job sort of moves throughout your twenties -- that was my experience. When you first get out of college, you may say "I would never do that," and then you go through a couple of months of not being able to pay your rent. All of a sudden, your line just moves a little -- and a little and a little.
For me, the funny thing is finding out that the price of your soul isn't like millions of dollars, it's actually just a paycheck that comes in some way. It's not a spoof, it's really trying to stay grounded in the reality of what it is like to lose your youthful ideals.
[Photo credit: Anna Camp and Ashley Williams by Debbie Cerda, all rights reserved; Sarah Gertrude Shapiro, courtesy of Matt Johnstone Publicity.]