SXSW Review: Computer Chess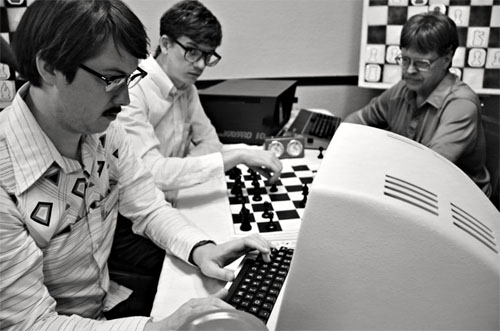 I work in high-tech so I'm no stranger to computer nerds, as they might have been called during the era in which the movie Computer Chess is set -- the 1980s, when computers were beginning to become portable. On the surface, this is a movie about "computers versus humans" in a chess tournament, but filmmaker Andrew Bujalski provides his actors with an environment for their characters to expand beyond nerdy stereotypes, giving the movie thoughtfulness and depth.
Computer Chess takes place at a weekend tournament where teams match their computers' best chess programs with one another, to see which is superior. The winning team will pit their computer against a human chess master. The programmers aren't the only people holding events in the hotel, however, and a weekend couples-encounter retreat provides some amusing contrast.
The film is shot and structured as though it were a documentary or found footage -- Bujalski even used a vintage video camera to shoot in black and white, to great effect. I wouldn't call it a "mockumentary" because it implies a level of screwball spoofery that isn't present. The "action" often pauses for characters to discuss whatever's on their mind, resulting in a slower pace than you might expect but also more fascinating characters and insights. The humor here is mostly subtle and sporadic, except for the couples-encounter scenes and a subplot about a character who can't find a place to sleep.
If I had never seen any of the actors before, I would likely be very much taken in by the documentary conceit. Having watched a lot of Austin indies, though, I quickly recognized several familiar faces (also, Gerald Peary is the chess master), which made it more difficult to suspend disbelief. I had another hurdle most viewers wouldn't, because James Curry, who plays Carbray, and I worked together in an IT department a few years ago.
But Bujalski's direction and the level of improvisation in this movie drew me in and as the story progressed, it didn't matter that I knew some of these actors for other films. Their characters seem real even as the "documentary" structure seems less believable. Curry stopped being this programmer I know and started being a programmer from the 1980s. Chris Doubek stayed Doubek, but somehow that worked too, since his sequences were more tangential to the tournament.
I initially wished "the girl" on one computer team, Shelly -- played by local film editor Robin Schwartz -- was a little less tentative and more assertive, which I imagined women trying to succeed with computers in the 1980s would have to be; but as the film progressed, I liked that Shelly was a character of her own and not an iconic amalgam.
Wiley Wiggins manages to infuse his character with characteristics that reminded me of character actors Austin Pendleton and Bud Cort in 1970s films, which is perfect for this particular setting. In fact, the combination of Wiggins' character and some very odd moments in the film -- like an ongoing gag involving cats -- combined with the improvised dialogue, gave Computer Chess a very Altman-esque vibe. This is further underscored by Patrick Riester's student programmer Bishton, the observer of the film, who links all the substories together.
Computer Chess is one of those movies that I liked more two hours after I saw it than I did as the credits rolled -- at times it's prickly, at times it seems a little windy, but overall it has a sneaky charm ... much like many programmers I know, actually.
Austin connections: Computer Chess was shot in Austin with a primarily local cast and crew. Most of the actors were people who do not usually appear in front of a camera, like Gerald Peary, Robin Schwartz and Bob Sabiston. You might recognize Chris Doubek, Wiley Wiggins, Cyndi Williams and Jonny Mars. It was nice to see former Austinite Daniel Metz as the tournament emcee, and Slackerwood contributor Rod Paddock shows up briefly in the opening sequence, lugging computer parts into the hotel.
If you missed Computer Chess at SXSW, Kino Lorber has bought the distribution rights and plans theatrical distribution later this year.