SXSW Review: This Ain't No Mouse Music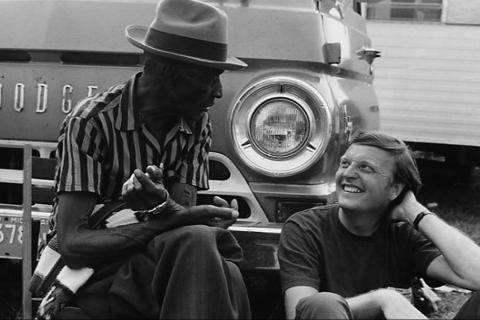 With its origin in music and a 20-year history of supporting mainstream and independent film, Austin's SXSW creates a unique atmosphere where both universes sometimes collide to create splendid works of art. This year's festival managed to once again create a unique melding of music and film via the documentary This Ain't No Mouse Music! It's a heartfelt movie that tells the story of Chris Strachwitz and his unique music label Arhoolie Records.
Directed by Chris Simon and Maureen Gosling, This Ain't No Mouse Music! spans a period of over 50 years. Strachwitz's story begins in the summer of 1960 when he travelled to Navasota, Texas to record songwriter and guitarist Mance Lipscomb. During the same trip, Chris also met and recorded legendary bluesman Lightnin' Hopkins. In order to promote these two legendary musicians, Chris founded his own record label, Arhoolie Records. It was all melody from there.
The film examines the creation of a massive library of music with recordings spanning multiple regions and musical genres from Louisiana Blues to Zydeco. There are few genres of music that Strachwitz didn't like and record. The thread that combines it all together is Strachwitz and his undying love of music ... and more importantly the musicians themselves.
This documentary succeeds on a number of levels. The first is with its protagonist. Strachwitz is a likable person who has been able to enmesh himself in numerous music communities, all the while demonstrating a true command of the art. Chris's love of music comes across throughout the movie and is highly contagious. It's this contagion that makes the film work on yet another level.
No matter what types of music you are into, you will find yourself falling in love with music all over again after seeing this film. You will want to break out your old blues records, you will want to watch the Woodstock documentary, you will want to expand your music horizons. This is what makes This Ain't No Mouse Music! successful. It teaches you about music but leaves you wanting more (in a good way).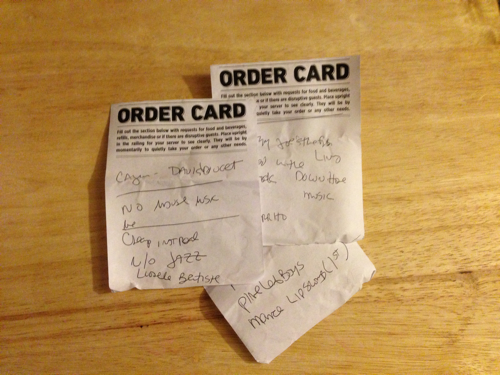 As proof of this desire to learn, I give you an image of the notes I took during the SXSW screening of the doc. Hopefully This Ain't No Mouse Music! will leave you with as much of a hunger for music as it did me.
Austin/Texas connections: We'll let the filmmakers tell you in their own words, which they sent us: "We filmed in San Antonio, Navasota, Eagle Pass, Houston and points in between. Flaco Jiménez and his brother, Santiago Jiménez, Jr. are both featured. Bluesmen Mance Lipscomb and Lightnin' Hopkins come alive vis Strachwitz's stories, recordings and photos. In addition, Maureen Gosling used to live in Austin. She and Eagle Pennell started Austin's first film festival [Change the Reel] back in 1975."
Check the movie's Facebook page for details about its upcoming film-fest screenings, which currently include Hot Docs and the Nashville Film Festival.