Movies This Week: March 22-28, 2013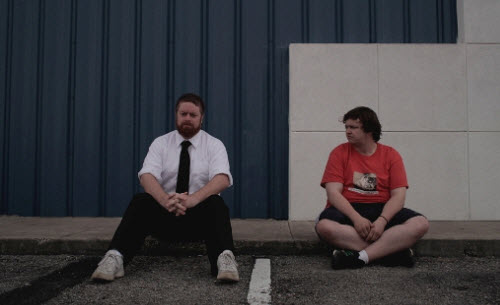 Hoo boy -- is it ever a busy week in Austin movie land! No less than 13 new movies are releasing in River City theaters, and among the usual forgettable and formulaic fare are a couple of standouts.
The Gatekeepers, a documentary about the Israeli security agency Shin Bet, is generating great critical buzz and is the Austin Chronicle's Pick of the Week. And don't judge the over-the-top dark comedy Spring Breakers by its title or trailer; this bikini-clad, candy-colored commentary about youthful excess is getting great reviews. (It will surprise no one that Spring Breakers tops my list of films to see this weekend. Social commentary? Copious youthful nudity? The Gatekeepers can wait a week.)
If none of the baker's dozen of new releases interests you (really, you should be a bit more adventurous), the Austin Film Society's Essential Cinema series is presenting the Palestinian import Habibi Rasak Kharban (Darling, Something's Wrong with Your Head) on Tuesday at the Alamo Drafthouse Village. A modern day retelling of an ancient Sufi parable, the film is the story of two lovers who caught between Israeli occupation and Palestinian traditions. Director Susan Youssef will attend the screening.
As part of its Avant Cinema series, AFS is screening Smithereens on Wednesday at the AFS Screening Room. This 1982 drama by Susan Seidelman (later famous for Desperately Seeking Susan) is a quirky "No-Wave" story of a young New Jersey woman trying to break into the New York City music scene. Smithereens is a a great time capsule for anyone interested in the East Village scene in the early Eighties, with a score by the cult band The Feelies.
Jerry Jeff Walker fans and Austin musical history buffs shouldn't miss OK Buckaroos -- The Life, Music and Times of Jerry Jeff Walker, a documentary about the singer/songwriter's eclectic career and sometimes difficult life. The film screens Saturday at the Stateside.
On Monday, the Stateside presents the local indie Cinema Six (pictured above), a comedy about three longtime small-town movie theater employees who know they're in a dead-end situation but can't seem to move anywhere better. Shot in and around Austin, the film features Austin actors John Merriman, Byron Brown, Chris Doubek and many others.
Having recovered from SXSW, the Alamo Drafthouse is offering its usual mix of special screenings again. From a Dazed and Confused quote-along tonight (Friday) at Slaughter Lane to a Tough Guy Cinema screening of Sam Peckinpah's classic The Wild Bunch on Saturday and Sunday at the Ritz, cinephiles will find something of interest. Check the Alamo calendar for the complete schedule.
Movies We've Seen
Admission -- This comedy stars Tina Fey as a Princeton admissions officer who takes a professional risk after she meets a college-bound teen who may be the son she gave up for adoption. Debbie says it's "a light-hearted vehicle to explore chemistry between Paul Rudd and Tina Fey, but it's veteran comedic actress Lily Tomlin who steals the scenes with her portrayal of a strong feminist." Look for her review this weekend. (wide)
Stoker -- In this thriller, when a mysterious man moves in with a young girl and her unstable mother, the girl becomes infatuated with him while suspecting he has ulterior motives. J.C. calls it "very much a Chan-Wook Park film, and by that I mean very intense and incredibly well acted. It's not quite the classic Oldboy was, but it's almost that quality. It's worth a viewing." Look for his review this weekend. (Arbor, Violet Crown)
Other Movies Opening in Austin
The ABCs of Death -- This anthology horror film features 26 segments helmed by 26 directors. Each director was assigned a letter of the alphabet, chose a word starting with that letter, and created a death-related story inspired by the word. (Alamo Village)
Come Out and Play -- In this Mexican horror film, a couple's island vacation turns nightmarish after they notice that no adults are present. (Alamo Village)
The Croods -- In this animated comedy, a prehistoric family embarks on a fantastical journey when the cave where they live is destroyed. (wide)
The Gatekeepers -- This documentary features interviews with the surviving former heads of Shin Bet, the secretive Israeli security agency. (Arbor, Violet Crown)
G.I. Joe: Retaliation -- The increasingly ubiquitous Channing Tatum stars in this actioner about G.I. Joes fighting their mortal enemy while contending with threats from their own government. (wide)
InAPPropriate Comedy -- Adrien Brody stars in this raunchy comedy about a tablet computer full of offensive, politically correct apps. After watching the breathtakingly stupid and racist trailer, I'm begging you not to watch this film. I suspect Brody -- the Oscar-winning star of The Pianist and other stellar films -- doesn't want you to watch it, either. (Metropolitan)
Mindless Behavior: All Around the World -- This documentary follows boy band Mindless Behavior on their first major tour. Expect a lot of behavioral mindlessness. (Tinseltown North)
MURPH: The Protector -- Navy SEAL and posthumous Medal of Honor winner Michael Murphy is the subject of this documentary. Expect a lot of macho jingoism. (Arbor, Metropolitan)
Olympus Has Fallen -- In this thriller, a disgraced former presidential guard is trapped inside the White House after a terrorist attack and must rescue the president from his kidnappers. (wide)
Spring Breakers -- Never mind the title; Harmony Korine's new film is anything but a lowbrow sexploitation comedy and is garnering surprisingly positive reviews. (It's playing at the Arbor and Violet Crown, for god's sake.) A commentary about nihilistic self indulgence, Spring Breakers is the story of four college girls who are arrested after robbing a restaurant to fund their spring break vacation. A drug and gun dealer (James Franco in grillz and cornrows) bails them out, but wants them to do some dirty work. Expect a lot of culturally relevant naked boobs. (wide)
Upside Down -- Kirsten Dunst and Jim Sturgess star in this dystopian sci-fi romance about two lovers who try to reunite after gravity pulls their planets in opposite directions. (Tinseltown South)