SXSW Review: The Other Shore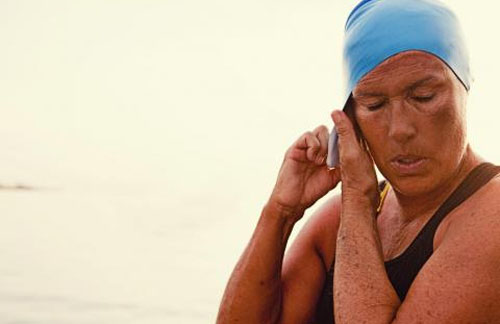 Please welcome guest contributor Brady Dial, an Austin-based film producer whose last film was the documentary Man on a Mission.

After seeing The Other Shore you'll either be inspired to pursue your most impossible dreams -- or to drop them in favor of fully appreciating your present. Either way, a win. There are many surprises in this documentary about Diana Nyad's attempt to swim the gulf between Cuba and Florida, not the least of which is this: it's not about swimming.
To be sure, the film includes plenty of training scenes, discussions of the perils of the trip and a history of Nyad's swimming career. But that's all merely icing on the dense layer cake that is Nyad herself. Her relentless pursuit of the Cuba-Florida swim is at once an inspiring story of dogged determination while also revealing the tragic costs of single-minded obsession.
At 60, after a 30-year hiatus from long-distance swimming, Nyad decides that she just can't let go of this one last goal. She starts training again for the grueling 103-mile swim from Cuba to Florida, fraught with perils including sharks, strong currents and the incredibly venomous box jellyfish. The scenes involving the latter are some the most harrowing moments of the film and a testament to Nyad's indomitable will.
THe Other Shore is also a portrait of a human being at her most primal, nothing but will, bone and muscle. After several hours in the water, Nyad becomes a wild-eyed force of nature, only speaking in one-word sentences ("Hurts! Face! Spine!"). It's like watching a real-life Altered States as she transforms from homo sapiens to some early aquatic creature built only to keep fighting the current.
But as with William Hurt in Altered States, Nyad's obsessions are clearly taking a toll on her loved ones. Nor does she seem to be able to move forward with some aspects of her life or fully appreciate the incredibly rich tableau of her time as a successful sports figure and media personality. The "other shore" has become a metaphysical destination, one that might cost her dearly. To paraphrase one friend, "She may be trying to take her body to a place that only the spirit can go."
After the screening, co-producer Karen Christensen told me a bit of info left out of the movie that made the price all the more high: They'd been told by experts that even with all conditions perfect, Nyad's chances of success were about 4 percent. Small odds on which to gamble your future and stretch the commitment of your family and friends. Nyad seems somewhat in danger of becoming her namesake from Greek mythology. The naiad was a water creature that drowned those that fell in love with them.
The Other Shore director Timothy Wheeler uses a familiar formula to tell the tale. Open with a dramatic moment from late in the story, go back to the beginning and tell a linear narrative to arrive back at this suspenseful spot. But any lack of original structure is forgiven because he wisely chose not to let style overshadow substance. And what substance it is. As Nyad's nephew, Wheeler gains the most intimate of access to Nyad's personal history as a victim of serial sexual abuse, as well as some of the most painful moments of her quest, both physical and emotional.
Nyad has publicly stated that she's no longer swimming to work through her difficult past, but rather to prove that "60 is the new 40." After watching The Other Shore, though, one can't help but wonder whether she's not hoping to find her much younger self on that far horizon, free of pain and regret, ready to start her life anew.
The Other Shore screens again at SXSW on Saturday, March 16, at 11:00 am at Alamo Ritz 2. If you miss it at SXSW, it will play next month at the Dallas International Film Festival.