SXSW 2013: Ghost Ghirls and Tenacious D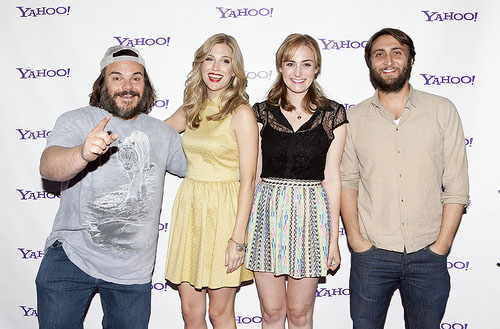 Ghost Ghirls is a new online comedy series presented by Yahoo!Screen that follows two young female ghostbusters as they solve mysteries of paranormal phenomena. Portrayed by comedians Amanda Lund and Maria Blasucci, the pair emulate Shawn and Gus of Psych more than Sherlock Holmes and Watson as they attempt to convince their clients and local law enforcement of their legitimacy as investigators.
Ghost Ghirls was created by Jeremy Konner, Lund and Blasucci, who also serve as executive producers -- seen above with fellow executive producer Jack Black. Konner, who is best known for his Drunk History series on Funny or Die, also directed Ghost Ghirls.
An exclusive sneak preview of two episodes of Ghost Ghirls was presented at SXSW 2013, featuring hilarious cameo appearances by Dave Grohl, Val Kilmer, Molly Shannon and numerous other celebrities. I thoroughly enjoyed the witty writing and well paced storylines, and look forward to more adventures with the paranormal pair. Following the screening, Lund and Blasucci along with Black and Konner hosted a Q&A as comical as their on-screen performances. The audience was then treated to an intimate performance by Black's band Tenacious D.
See more photos from the event after the jump.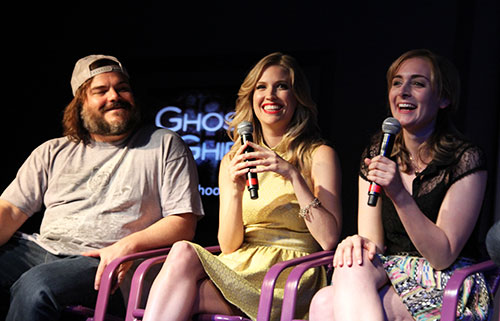 Executive producer Black watches as Lund and Blasucci banter about their roles in their female-driven project Ghost Ghirls.
Kyle Gass joined Black onstage after the Q&A to perform as their well-known band Tenacious D, delighting the audience with their own talented comedic performances.
The online debut of Ghost Ghirls takes place this summer on Yahoo!Screen. Before the screening, stars Lund and Blasucci along with producer Jack Black shared more details and laughs about Ghost Ghirls at Yahoo!'s Launch Alley at SXSW 2013. Find out more in the Yahoo!Screen video below:
[Photo credits: "Jack Black, Amanda Lund, Maria Blasucci and Jeremy Konner at the Ghost Ghirls Watch Party at SXSW" by Hal Horowitz, "Ghost Ghirls Q&A" and "Tenacious D at Brazos Hall" by Debbie Cerda. Used with permission, all rights reserved.]