SXSW Review: The Retrieval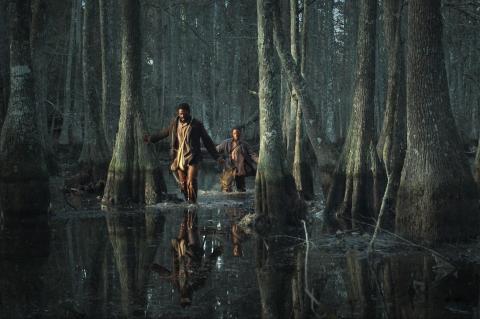 I've been a fan of Austin filmmaker Chris Eska's work since 2007, when his beautifully shot and quietly affecting feature August Evening became one of my favorite Texas films. So I had high hopes for his new feature, the historical drama The Retrieval -- and I'm happy to report that it lived up to my expectations in every way. In a word, The Retrieval is outstanding.
The Retrieval is thematically complex, but the story is deceptively simple. Set during the Civil War, the film follows 13-year-old Will (Ashton Sanders), a fatherless boy who has taken up with a bounty hunter gang. Gang leader Burrell (Bill Oberst Jr.) sends Will on a risky mission to retrieve Nate (Tishuan Scott), a wanted man with a lucrative bounty on his head. To ensure Will's return with Nate, Burrell threatens the boy with death if he doesn't bring back his quarry.
Will and his fellow gang member Marcus (Keston John) find Nate digging graves in a Union graveyard and convince their unwitting prey to follow them back to Burrell's gang, under the ruse that they're leading him to see his dying brother. Along the way, the initially aloof Nate and Will begin to bond, developing an unexpected surrogate father-son relationship.
As unforeseen events complicate the journey and Will grows closer to Nate, he is consumed by a wearying decision and a moral dilemma: Should he deliver Nate to the gang, or tell him the truth and risk death if the gang finds out he let Nate go?
Will's moral dilemma is at the heart of The Retrieval, and is one of the film's many universal themes. The story of a clash between survival instincts, loyalty and morality may take place during the Civil War, but it's timeless; in fact, Eska considered setting the film on the present-day Texas border or in 1970s India before deciding on the Civil War time period. As with August Evening, The Retrieval's power lies in the universality of the characters' emotions; like young Will, many of us have agonized over whether doing the right thing for another person is worth great personal risk.
The Retrieval may share its themes with many films, but it's a highly unusual movie in other ways. Most noticeably, it's set during the Civil War but isn't a war film at all. There are glimpses of the war around the film's edges, and Will, Marcus and Nate do cross paths with the conflict and carnage in a few scenes. But they're not soldiers, and the story focuses very narrowly on their journey. (Again, the story is universal; the Civil War is just one of many possible backdrops.)
The Retrieval also is a rarity among indie films in that it's set in the distant past. Limited resources usually dictate that micro-budgeted films are set in the present, as historically accurate sets and costumes don't come cheap. But Eska cleverly worked around these limitations by keeping the cast and story small and staging almost all of the action outdoors and far from urban areas; the woods look the same now as they did in 1864. He also enlisted the help of a handy resource: Civil War re-enactors, who were more than happy to put on their uniforms and stage a battle or two for free barbecue and a chance to appear in a movie. The end result is that The Retrieval looks like a much larger and more lavish production than it is.
The film's cast may be small, but their talents are enormous. Sanders was only 15 when The Retrieval was filmed (it's his first film role), but his nuanced and polished performance as Will rivals the best work of actors twice his age. Conveying a character's inner conflict is among the hardest of acting chores, and Sanders does so with astounding maturity. If The Retrieval is any predictor of things to come, the young actor can look forward to a bright future.
Scott also shines as the temperamental and somewhat forlorn Nate, whose hardscrabble past informs everything he does. Like Sanders, he's a natural in his role, disappearing into the persona of a weary, impoverished victim of racism and war. He's a hardened man, but not entirely, which makes the father-son chemistry between Nate and Will very believable. It's easy to see why Scott won the SXSW special jury recognition award for acting for this role.
The minor players are no less spot on, especially John as the bounty hunter Marcus, whose frustration with his lot in life is obvious -- there is little doubt that given other options, he'd choose a career other than bounty hunting. And Oberst is eerily soulless as the unashamedly racist Burrell. The dark shadow of racism hovers over all of The Retrieval, and Burrell embodies this shadow with his steely glare and dispassionate attitude toward his job. His quarry is mostly black men; if he's sometimes surprisingly protective of them, it's only because they're worth more alive than dead.
Much as I love The Retrieval, in one respect it's the kind of movie that frustrates critics: I can think of no criticisms, even minor ones, of this astounding film. It's as close to perfect as a movie can be, and another triumph for Eska and all involved. Visually beautiful and thematically poetic, it's a quiet film that speaks volumes.
Austin/Texas connections: Eska lives in Austin and has filmed several productions in Texas. Scott lives in Houston and has worked in several local productions including Computer Chess (where he plays the guru). The Retrieval was shot in many Texas locations, including ranches in Gonzales and Tyler Counties, Angelina National Forest and Martin Dies State Park in East Texas, historic sites near Houston, Gonzales and Washington-on-the-Brazos, and Palmetto State Park.
The Retrieval screens at SXSW again on Saturday, March 16 at 11 am at the Stateside.