SXSW Review: I Am Divine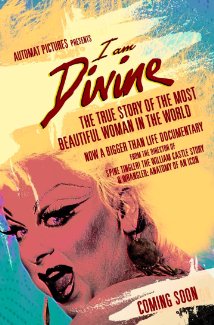 Harris Glenn Milstead, professionally known to the world as Divine, was perhaps middle America's first mainstream exposure to a drag queen. I Am Divine is a definitive documentary of Divine's life from his youth growing up in Baltimore to his death in 1988. With this movie, director Jeffrey Schwarz continues his sterling track record of in-depth, fascinating profile films such as Vito and Spine Tingler! The William Castle Story.
Interviews with John Waters, Jayne Mansfield, Tab Hunter, Mink Stole, Bruce Vilanch, Holly Woodlawn, Rikki Lake and finally, Divine himself, paint a fabulous picture of the man inside the dress shedding light on what was, to me, up until now a mysterious personality.
Before watching Schwarz's documentary, I could tell you little more about Divine other than that he was a 300-lb drag queen who once ate a dog turd on camera in John Waters' Pink Flamingos. Now, Divine is a personal hero as inspiring for his personality and drive as his untimely death at the height of his stardom was tragic.
I can think of little better praise for I Am Divine than the fact it elevates Divine to the status of a true hero, who endured pain and mistreatment but found success through talent, hard work and perseverance. Schwarz's documentary takes on a life of its own, and the viewer is drawn into the life and experiences recalled by his subjects as they share intimate details of Divine's life.
I Am Divine screens once more at SXSW on Thursday, March 14 at 11:15 am at Alamo Drafthouse Slaughter.