SXSW Review: Rewind This!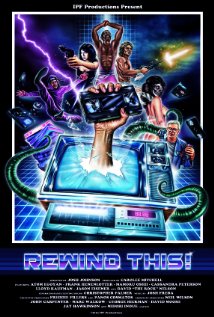 This year's SXSW Film Festival includes many movies with Austin connections, but perhaps none that can be considered so completely Austintacious as director Josh Johnson's labor of love, Rewind This! After three years of work alongside Christopher Palmer and Carolee Mitchell, the documentary about VHS premiered to a packed house at the Paramount on Monday.
Rewind This! is one of the most entertaining documentaries I've seen, detailing the birth and rise of home video recording technology in both VHS and Betamax formats and their impact on the filmmaking industry. Johnson, Palmer and Mitchell shot thousands of hours of footage with interview subjects like Lloyd Kaufman, Mamoru Oshii (Ghost in the Shell), Charles Band, Jason Eisener (Hobo With a Shotgun) and Cassandra Peterson (Elvira), and cut the material down to a feature-length exploration that blends these among with many others into a single cohesive narrative voice.
In addition to the big names, local personalities like Alamo programmers Zack Carlson, Lars Nilsen and Brian Kelley, and film critics like Drew McWeeny of Hitfix and Twitch Film's Todd Brown provide their insights and anecdotes. From flea-market shopping to rummaging through video-store back rooms to expansive home collections, Rewind This! explores titles that are unavailable on any other format, titles that were produced only on VHS, and titles that are noteworthy only for their actual titles or box art.
It's a fascinating rabbit hole to jump into, accompanied by a driving score from Josh Freda that brings to mind many titles from the 1980s glory days of VHS. There is no way you could walk out of this film without wanting in some corner of your mind to go digging through a box or library somewhere to try and find one of the many crazy movies mentioned in Rewind This!
Austin connections: As aforementioned, a number of Austin film personalities are featured in the documentary, plus local stores Vulcan Video and I Luv Video, and shots of Alamo Drafthouse. Johnson lives in Austin, and Palmer and Mitchell are former Austinites.
Rewind This! screens again on Wednesday, March 13 at 9 pm at Violet Crown 1&2, and on Saturday, March 16 at 1:30 pm at Topfer Theater at ZACH.