Mondo 'Game of Thrones' Gallery Brings King's Landing To Austin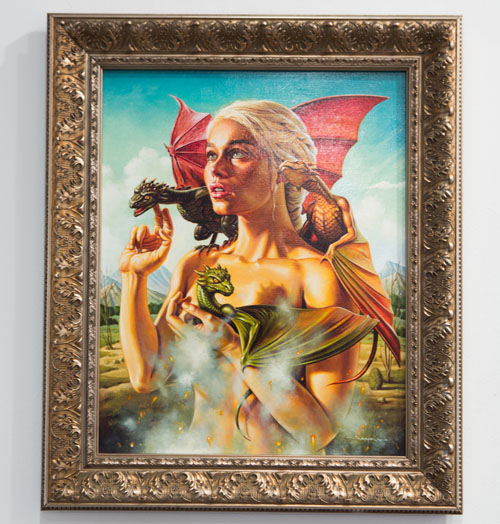 Local poster czar Mondo kicked off SXSW in its own style, premiering a new show of original Game of Thrones-themed art at the gallery on Friday. The opening included a special blonde ale created by New York brewery Ommegang that was inspired by the hit television show. The "Iron Throne" beer, as it was called, luckily had a light, non-metal taste, and was a perfect subtle pairing for the art itself, which ranged in styles and subjects.
In the end, the art didn't need the metaphoric "beer goggles" to ratchet up anticipation for the coming season of the HBO show. I know I walked away dying to visit Daenerys and her dragons again after seeing Jason Edmiston's sumptuous "Mother of Dragons" painting, pictured above. (Keep reading for more photos.)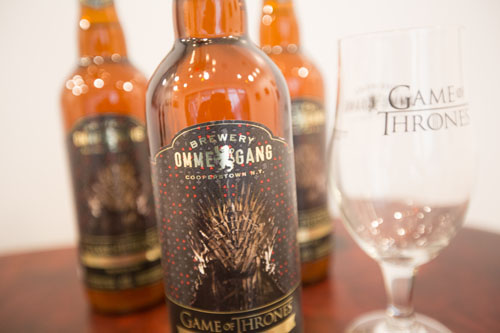 The Mondo show was a reminder of what the poster company has done for the Austin film and entertainment community, having grown amazingly from its humble beginnings as a t-shirt shop at the old Colorado street Alamo Drafthouse. It's easy to attend the gallery openings and think only about posters, but their growing collaborations with big industry names like HBO and Universal Pictures are shining a light on our creative town. It's true that rising tides raise all ships.
I talked with Mondo creative director Justin Ishmael about Mondo's relationship with HBO, and how the current collaboration started. He reminded me of the three Game of Thrones posters Mondo and HBO created last year for San Diego Comic Con. The cable network would tweet a location where free posters could be picked up and fans would flock to that spot in droves. Eventually, fans got wise to the actual car of the person driving around San Diego and simply followed her instead of waiting for a tweet. That was when HBO realized the true fervor of Mondo fans.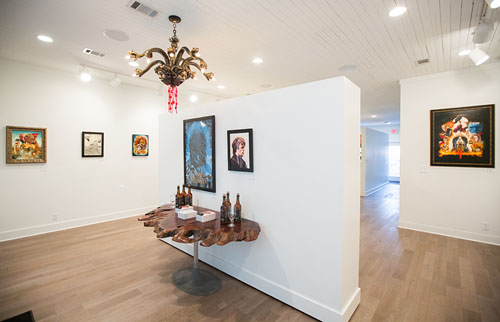 When HBO approached Mondo recently, the timing was right. Mondo now had a physical gallery space to display original art and HBO wanted both a series of posters and an event to rally around. By all accounts, the Game of Thrones gallery show has been a success, building excitement and online buzz about the upcoming season.
On a personal note, I was curious about the potential for spoilers and hints embedded in the Mondo art. I'm a fan of the show, but haven't read the books. I was assured that great lengths were taken to prevent spoilers from happening. Justin said that as fans of the show themselves, they created a system where, "If there was a spoiler [in the art], none of us would even know it."
The Game of Thrones gallery show continues through Tuesday (today), but the eight-poster series will continue selling online over the next few weeks as a lead up to the show's season premiere.
[Photo credit: "Mother of Dragons by Jason Edmiston," "Ommegang Iron Throne Ale," "Mondo Game of Thrones Gallery" and "In the House of the Dying by Daniel Danger" photographed by Nick Simonite. Used with permission from Mondo.]
Katy Daiger Dial is the Community Education Manager at the Austin Film Society.