'The XXXX Saga' Production Diary: Week One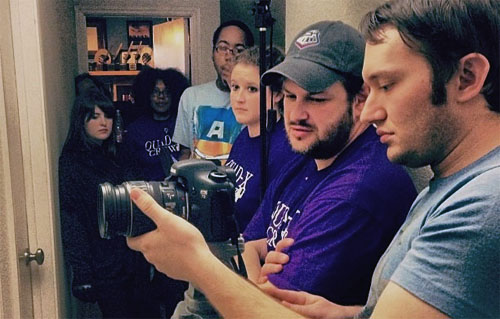 Austin filmmaker James Christopher is directing Twitchy Dolphin Flix's new mockumentary-style features The XXXX Saga: Rise of the Beaver Slayer and The Porn Movie Massacre (no, they're not pornos). Check Slackerwood for his updates as the production continues.
We jumped into the production with both feet ... and arms and other appendages. It is a mockumentary about the adult film industry, after all! I was tickled at how well oiled the crew already is. While we have been together for a long time, there is normally some period of adjustment that is needed to get cracking.
We jumped in and Elena Weinberg was our first actress playing both Daisy and Serenity. I can't thank her enough for taking on both parts. It's a huge strain on her and a huge relief for me to have a talented and a true professional taking on that double duty. Vanessa Perry and Terissa Kelton made their returns to the Twitchy screen as Miss Prissy and Ginger Snap, respectively. Vanessa plays a struggling teacher trying to make ends meet while Terissa struggles with the dual roles of mom and adult film star.
Also new to the cast and to Twitchy is Duncan Coe, who takes on the role of a USC grad who can't find a good gig in mainstream film and is stuck in the porn world. I guess his life changed when Vince crossed the goal line, eh? (Hook 'em baby!)
All that was just Thursday. And to be honest, as the writer of the film, I couldn't be prepared for the hilarity that would ensue over the next two days.
Colby Wallingsford brought a fully formed and fully ridiculous character to life as the Beaver Slayer, an ex-con turned adult film star with performance anxiety. He had two lovely co-stars this weekend. Brooke Friesen played his fianceé, who grapples with the news of Beaver's other career, while the wonderful Janet Mayson made the trip from Illinois to play his psychotherapist Dr. Long. So many memorable moments between those two.
We finished up Sunday with the second day of introducing the horror element of the film by shooting our first real death scene. Thanks to Krystal Kohler for coming out and playing the killer. If anyone else is interested in strapping on the mask for a few hours, let us know!
So, the first chunk's down. Now we have a break to try and get the wrinkles ironed out before we go back into it. I can't thank the cast and crew enough We try to do things differently. We're professional. We have fun. But it's not all cake and ice cream. We also get down to business. If we didn't, we wouldn't even get out there and waste our time. So thanks to all of you who continue to support us.
[Photos courtesy of Twitchy Dolphin Flix]