SXSW Review: All The Labor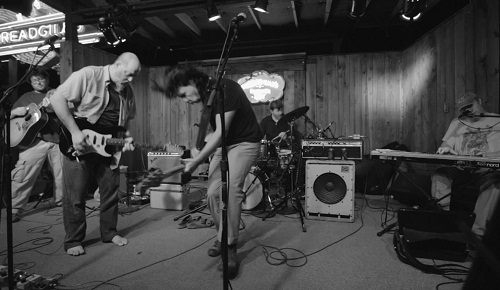 With ten albums over almost 20 years, the Austin band The Gourds has been well established on the local scene with their raucous live performances. Kevin Russell formed the band in 1994 with fellow songwriter Jimmy Smith, and Claude Bernard on accordion, guitar and keyboards -- Keith Langford later joined the band on drums. It was the viral sensation of their cover of "Gin and Juice" that garnered them national attention, and has become their band's version of "Freebird" as the most requested song. Longtime fans of the band know that the magic of The Gourds truly comes from the communal live experience, whether witnessed at a jam-packed Thursday night show at Shady Grove or the memorable SXSW 2005 free show at Auditorium Shores with a sea of over 20,000 people.
Director and editor Doug Hawes-Davis captures the beloved band in his documentary, All The Labor, which premiered last night at SXSW 2013. Founder of the annual Big Sky Documentary Film Festival in Missoula, Montana, Hawe-Davis is no stranger to documentary filmmaking, having collaborated with editor Drury Gunn Carr on more than 30 documentaries.
They began filming The Gourds in August 2011. in an unconventional practice space -- an abandoned kitchen in a former mental institution in south Austin. The filmmaking team followed the alt-country roots rockers as they toured relentlessly in support of Old Mad Joy, their most recent album produced by longtime Bob Dylan sideman Larry Campbell. Interspersed is commentary with each of the members and behind-the-scenes footage in their favorite local spots and homes.
The mixed cinematography ranges from hand-held cameras capturing the intimate moments in the practice rooms to live performances. The editing often lends to a more meandering pace that often mirrors the band's fluidity and laidback roots. With such a mix of performance footage, I was quite satisfied with the sound design and audio quality, which can often be difficult.
Like many rockumentaries, All The Labor is a fan's film and may not have broad appeal due to its length and pacing. I expected a bit more with the involvement of Mike Woolf (Man on a Mission) as a cinematographer for the local scenes, but Woolf was not apparently involved in the final production. However, fans will be quite pleased with the depth to which the audience is shown the family and friendship behind a truly Austin original band and will love the many performances captured across the country in this documentary.
All The Labor screens again at SXSW on Saturday, March 16, 4:30 pm at Alamo Ritz.